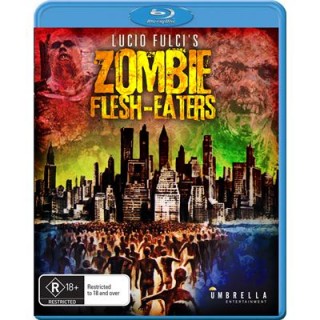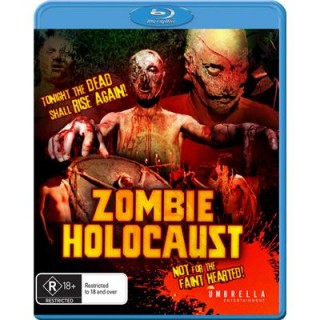 Zombie Holocaust (aka Island of the Last Zombies, Medical Deviate and Dr. Butcher, M.D.) goes for the jugular and rips it out gushing in a full-on shock to the system.In an effort to expose a flesh-eating cult in New York City, Dr Peter Chandler (Ian McCulloch from Zombie Flesh Eaters) and Lori Ridgeway (Alexandro Delli Colli) set out on an expedition to the primitive island of Keto – determined to uncover the origins of this mad zombie cult. Here they encounter a tribe of cannibals and a mad scientist who is experimenting and reanimating dead corpses. Four of his walking-dead experiments roam the island with an insatiable hunger for human flesh.Uncut and now in grisly high-definition, abounding with bloodshed and hardcore gore, this Italian horror classic is a cult assault on the senses and a must for any zombie film fan.
Special Features: Interview With Roy Frumkes / Original Tales That'll Tear Your Heart Out Footage With Roy Frumkes Commentary / Roy Frumkes' Behind the Scenes Photos / Poster & Stills Gallery / Interview With Maurizio Trani/Alternate Opening & Closing Credits / Deleted Scene / US & German Trailers.
Lucio Fulci's Zombie Flesh Eaters (aka Flesh Eaters and Zombi 2) remains one of the most graphically depraved shockers in horror film history. In search of the truth, Anne Bowles (Tisa Farrow) and Peter West (Ian McCulloch) travel to an ancient island looking for her missing father Dr David Menard (Richard Johnson).Along the way they meet with Brian Hull (Al Cliver) and Susan Barrett (Auretta Gay) and discover a terrifying disease which is turning the islanders into horrifying zombies with an insatiable hunger for human flesh. Now in flesh-ripping, blood glistening high-definition, their journey is one consumed by a living nightmare of the undead.
Special Features: Audio Commentary with actor Ian McCulloch & Diabolik magazine editor Jason J. Slater / Theatrical Trailer / TV Spots.