First shown at FRIGHTFEST back in 2011, Cristian Solimeno's THE GLASS MAN is finally available to see for the first time in 9 years and so deserving of it's release from obscurity. Playing out like an extended Black Mirror episode while riffing on many psychological horror films where the lead character's mind is unravelling in front of us. Andy Nyman delivers, in my opinion, his finest performance to date and its a shame THE GLASS MAN has languished in obscurity for the past decade.Highly recommended!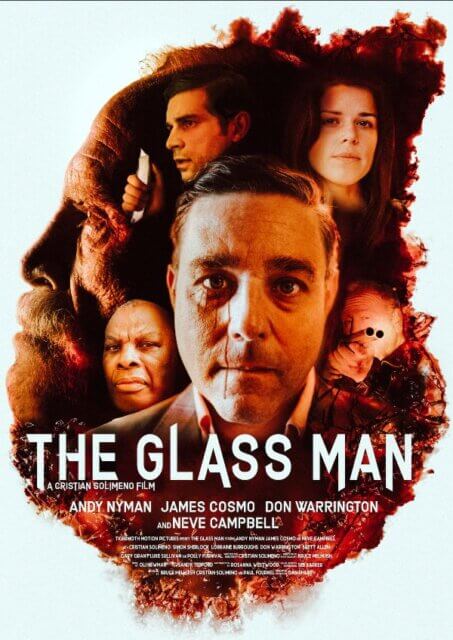 Tigermoth Moving Pictures and Central City Media are delighted to announce the UK digital release of the psychological horror thriller The Glass Man on December 7th. The film includes a strong British cast of Andy Nyman (Ghost Stories) and James Cosmo (Game of Thrones), as well as horror icon Neve Campbell (Scream). The Glass Man originally screened at Frightfest in 2011 to critical acclaim and now has its long awaited UK release.
The Glass Man tells the story of Martin (Nyman) whose perfect life, with the perfect wife (Campbell) and the perfect house is shattered when a loan shark, Pecco (Cosmo), calls at their home in the dead of night to collect what he's owed.  Pecco offers an ultimatum – lose everything or be his accomplice for the evening.  As they hurtle towards the terrible deed that Martin must perform, it starts to become clear that Pecco's intentions are even darker than they appear. 
The film is directed by Cristian Solimeno, who earlier in the year released the heartfelt meditation on mental health, I Made This For You. The film followed a group of friends trying to stop suicide went viral when it was released on youtube for free during Mental Health Awareness month. It was shortly picked up by Channel 4 and praised by the BBC.
Cristian says "I'm incredibly excited to bring this film to a UK audience at last. The performances are extraordinary and the themes seem more important and pressing than ever. Just wait till you see what Andy Nyman does in this. It will blow you away."
The Glass Man will be available to watch on digital download in the UK on December 7th.