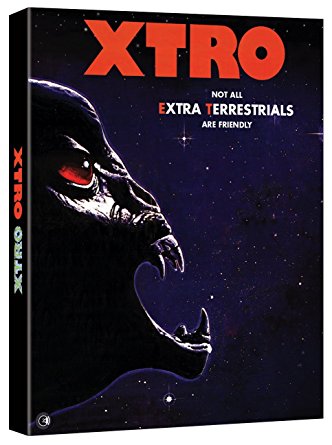 Remastered and restored in glorious HD! This Limited Edition Blu-ray release is an essential purchase for all Horror fans!
Part E.T., part Alien, British horror classic Xtro is one of the
strangest, most shocking exploitation flicks to land on earth during the video nasty
heyday. A film that narrowly avoided inclusion and prosecution on the original nasties list, threw in buckets of blood and gore and
some of the most outlandish plot twists of the VHS era to create a truly memorable horror classic. Now it makes its arrival for the first time on Blu-ray courtesy of Second Sight Films as Xtro: Limited Edition Box Set.
Second Sight's Limited Blu-ray edition of XTRO is music to die hard Horror lovers ears! This film has not received a decent release on any format for decades, until now. Older fans of the film will remember well the censored, pan & scan VHS editions doing the rounds in the early '80s.
This remastered HD edition is an absolute revelation, never has it looked this good. Known as a guilty pleasure for many horror fans, XTRO is a mind- melting hybrid of Horror and Sci-Fi genre tropes. This really should have received the love of it's early '80s horror contemporaries such as HELL RAISER, ALIEN, THE EVIL DEAD and POLTERGEIST.
Director Harry Bromley-Davenport unleashed two further slices of XTRO, Xtro II: The Second Encounter ('90) and Xtro 3: Watch the Skies ('95)…if you can take it!
SPECIAL LIMITED EDITION FEATURES: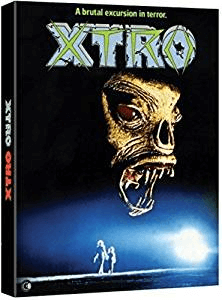 Limited Edition packaging
New restoration featuring option of alternate endings plus the original UK video version edit
New director restoration
'Xploring Xtro' – a new 57 minute documentary featuring interviews with Harry Bromley-Davenport, Mark Forstater, Bernice Stegers, Susie Silvey, 'Tik' – Tim Dry, 'Tok' – Sean Crawford, Robert Pereno, Alan Jones and Craig Lapper
'The World of Xtro' – a new featurette with Dennis Atherton, Harry Bromley-Davenport and Mark Forstater
'Beyond Xtro' – a new featurette with Harry Bromley-Davenport and Mark Forstater looking ahead to new reboot 'Xtro – The Big One', including excusive test footage
'Xtro Xposed'
'Loving The Alien: A Tribute to Philip Sayer' featuring exclusive Brian May music tribute
Soft cover booklet with new writing by Kevin Lyons plus behind-the-scenes stills and promo material
Original soundtrack CD
Rigid slipcase featuring original UK video and UK theatrical artwork
English subtitles for the hearing impaired.