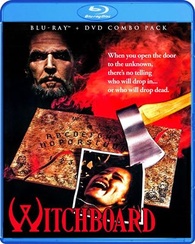 The Ouija Board has been used for thousands of years to communicate with the souls of the afterworld.For Linda Brewster (Kitaen), it brings the playful ghost of a dead 10 year old boy. But when the friendly spirit develops a sudden taste for violent murder and demonic possession, Linda's skeptical boyfriend (Allen) and her former lover must race to destroy this ferocious portal of the damned.
Director :Kevin Tenney.
Stars :Todd Allen, Tawny Kitaen, Clare Bristol.