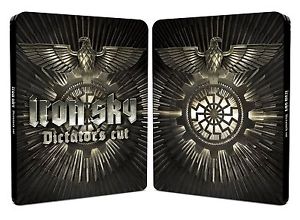 Thanks to everyone who entered this competition.The answer was The Waiter. The response was huge and i can now announce the 2 x winners: Congratulations to Tammy Tudor and Graeme Denman. Your Steelbook's will be with you very soon. Enjoy!
IRON SKY, a partly fan funded feature, stormed box office charts last year causing widespread buzz for perhaps one of the most surreal storylines in cinema history. This new DICTATOR'S CUT is bigger and better.
IRON SKY – THE DICTATOR'S CUT ON LIMITED EDITION, SPECIAL STEELBOOK EMBOSSED FORMAT, IS AVAILABLE TO PRE-ORDER NOW, RELEASED FEBRUARY 10TH 2014 – FEATURING STEEL BOOK COLLECTOR'S CASING, 32 PAGE COLOUR BOOKLET with concept artwork, and 75 minute making of featurette.