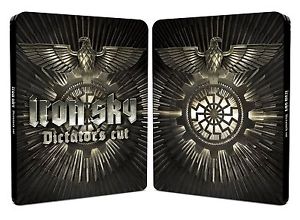 We have 2 Blu-ray's up for grabs! Please email the answer to the following question to [email protected] : Udo Kier appears in Lars Von Trier's 'Nymphomaniac' as which character ? Answers must be in by 5pm, Friday 7th Feb 2014.
IRON SKY, a partly fan funded feature, stormed box office charts last year causing widespread buzz for perhaps one of the most surreal storylines in cinema history. This new DICTATOR'S CUT is bigger and better.
IRON SKY – THE DICTATOR'S CUT ON LIMITED EDITION, SPECIAL STEELBOOK EMBOSSED FORMAT, IS AVAILABLE TO PRE-ORDER NOW, RELEASED FEBRUARY 10TH 2014 – FEATURING STEEL BOOK COLLECTOR'S CASING, 32 PAGE COLOUR BOOKLET with concept artwork, and 75 minute making of featurette.