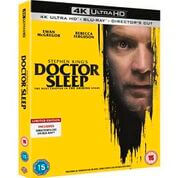 OWN IT EARLY ON DIGITAL DOWNLOAD ON FEBRUARY 24, AND 4K STEELBOOK, 4K UHD, BLU-RAYTM AND DVD ON MARCH 9TH.
See the final chapter of The Shining story.Dare to go back when director Mike Flanagan continues the story of Danny Torrance, 40 years after his terrifying stay at the Overlook Hotel in "The Shining" with "Doctor Sleep," a screenplay based on the novel by Stephen King.
Still irrevocably scarred by the trauma he endured as a child at the Overlook, Dan Torrance (Ewan McGregor) has fought to find some semblance of peace. But that peace is shattered when he encounters Abra (Kyliegh Curran), a courageousteenager with her own powerful extrasensory gift, known as the "shine." Instinctivelyrecognizing that Dan shares her power, Abra has sought him out, desperate for his help against the merciless Rose the Hat (Rebecca Ferguson) and her followers, The True Knot, who feed off the shine of innocents in their quest for immortality.
The Director's Cut which is available on the 4K UHD and Blu-ray editions, plus through select digital partners features nearly 30 minutes of new, alternate and extended scenes, selected by director Mike Flanagan, not seen in the cinema.
For your chance to win one of two copies of Doctor Sleep on Blu-RayTM, simply answer the following question:
Doctor Sleep is a continuation of Stephen King's The Shining and follows Danny Torrance in the years after he and his family lived in what evil location?
a) The Overland Hotel
b) The Overlook Hotel
c) The Overlink Hotel
Please send your answer, name and address to [email protected] by 10th March 2020.
© 2019 Warner Bros. Ent. All Rights Reserved