WIN A COPY OF THE BLU-RAY 
US is available to own on 4K Ultra HD, DVD and Blu-Ray from Monday 29thJuly and to celebrate we are giving two lucky winners the chance to win a copy of the Blu-Ray.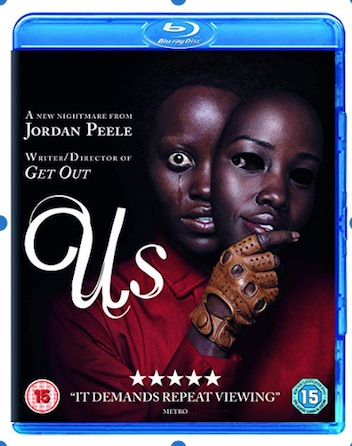 Academy Award® winner Jordan Peele follows the success of his blockbuster hit, GET OUT, with the masterfully executed and viscerally terrifying US. Certified Fresh on Rotten Tomatoes with a score of 94%, the film is being hailed as "Utterly brilliant" (Jamie East, The Sun) and "the scariest, smartest horror movie of the year so far" (Den of Geek). Fans around the world can now untether the truth with more than 50 minutes of bonus features delving deep into the mind of Jordan Peele, his filmmaking process and the symbolism behind US. The global sensation arrives on 4K Ultra HD, Blu-rayTM, DVD and On Demand on July 29, 2019.
Featuring incredible must-see performances from Academy Award® winner Lupita Nyong'o (Black Panther, 12 Years a Slave), Winston Duke (Black Panther), Emmy® winner Elisabeth Moss ("The Handmaid's Tale," "Mad Men") and Tim Heidecker (The Comedy, "Tim & Eric's Bedtime Stories"), US is "the most out-of-the-box horror film of the past decade," (Nathaniel Brail, Heroic Hollywood). Movie enthusiasts and horror fans alike can watch US again and again to unravel its darkest secrets. Doppelgängers. Hands Across America. The Nutcracker. Rabbits. 11:11. The key themes and imagery from US are unpacked and explained in exceptional bonus content such as The Duality of US featurette where Jordan Peele talks in-depth about many of the ideas behind the film.
Set along the North California coastline, Adelaide Wilson (Nyong'o) reluctantly returns to her beachside childhood home with her family and finds that she is haunted by unresolved trauma from her past along with a string of eerie coincidences. As darkness falls after a tense day at the beach, the Wilsons discover four figures standing in their driveway. They soon realize this is only the beginning of their troubles as they find that the four figures are terrifying and uncanny opponents: doppelgängers of themselves.
To win one of two Blu-ray's answer the following question: Jordan Peele won the Academy Award for Best Original Screenplay in 2018 but for which film? Please send your answer to [email protected] by Friday 2nd August 2019:
Get Out 
Keanu 
Us
US AVAILABLE ON 4K ULTRA HD, BLU-RAY, DVD AND ON DEMAND JULY 29, 2019
FROM UNIVERSAL PICTURES HOME ENTERTAINMENT