To celebrate the release of DOCTOR SLEEP, in the UK cinemas on 31stOctober, we've teamed up with Warner Bros to offer one lucky winner an exclusive prize…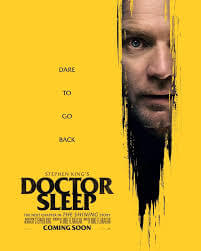 DOCTOR SLEEP continues the story of Danny Torrance, 40 years after his terrifying stay at the Overlook Hotel in The Shining.Directed by horror auteur Mike Flanagan (The Haunting Of Hill House, Oculus), the film stars BAFTA and Golden Globe® winner Ewan McGregor and Golden Globe nominee Rebecca Ferguson. 
DOCTOR SLEEP will reinvigorate audience's appreciation of the 1980 classic, and introduce cinemagoers to a new story, new characters and new horrors. In line with the Halloween release, you can win a DOCTOR SLEEP merchandise bundle + Stanley Kubrick film collection. To be in with a chance, simply answer the following question: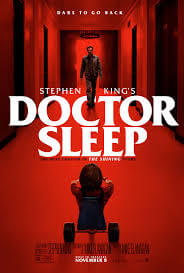 What is Danny Torrance's adult profession? 
A) A clown
B) A hotel manager
C)           A hospice worker
Please send your answer, name and address to [email protected] before November 5th 2019.
Still irrevocably scarred by the trauma he endured as a child at the Overlook, Dan Torrance has fought to find some semblance of peace. But that peace is shattered when he encounters Abra, a courageous teenager with her own powerful extrasensory gift, known as the "shine." Instinctively recognizing that Dan shares her power, Abra has sought him out, desperate for his help against the merciless Rose the Hat and her followers, The True Knot, who feed off the shine of innocents in their quest for immortality.
Forming an unlikely alliance, Dan and Abra engage in a brutal life-or-death battle with Rose. Abra's innocence and fearless embrace of her shine compel Dan to call upon his own powers as never before—at once facing his fears and reawakening the ghosts of the past.
DOCTOR SLEEP is released in UK cinemas on 31stOctober.
Terms & Conditions : Open to UK residents only; with entrants over 16 years of age; competition to end on 5th November 2019.