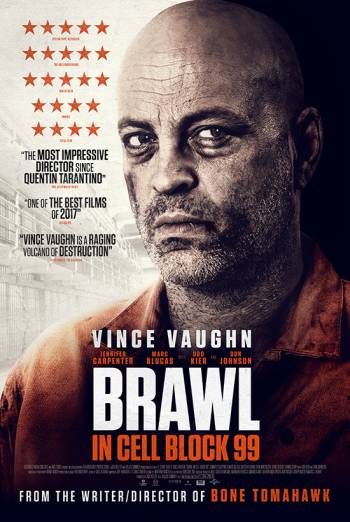 WRITTEN AND DIRECTED BY S.CRAIG ZAHLER / STARRING VINCE VAUGHN, JENNIFER CARPENTER, UDO KIER and DON JOHNSON.
The hugely acclaimed thriller BRAWL IN CELL BLOCK 99 releases on Digital Download from 11th December and on Blu-ray and DVD from 26th December 2017.
From the writer and director of the critically lauded western, 'Bone Tomahawk', a stellar cast, including Don Johnson ('Django Unchained'), Udo Kier ('Iron Sky'), Jennifer Carpenter ('Dexter') and featuring Vince Vaughn ('Hacksaw Ridge') in the most powerful and transformative performance of his career. BRAWL IN CELL BLOCK 99 is a brutal account of one man's journey to the most punishing incarceration imaginable.
When former boxer (Vince Vaughn) loses his job and is faced with the breakdown of his marriage, he decides to take a job as a drug courier to turn his fortunes around and provide a comfortable life for his wife Lauren (Jennifer Carpenter). Just as his situation begins to improve, a savage gunfight lands Bradley in jail where he has to make a series of impossible, chilling decisions to protect those he holds dear.
Backed into a corner, Bradley now finds himself forced to commit ever more ferocious acts of violence across a vicious prison battleground on the path to the most dangerous confinement of all – Cell Block 99.
For your chance to win one of  three BRAWL IN CELL BLOCK 99 DVD's please send your answer, name and address to [email protected] by December 31st.
Question) Which other Western, starring Kurt Russell, was released in the same year as Bone Tomahawk?