THE DRIVER is a clear influence on Nicolas Winding Refn's DRIVE and Michael Mann's THIEF (aka Violent Streets).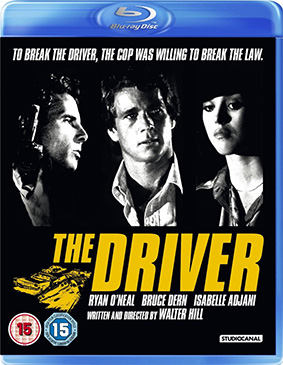 The Driver is presented in an immaculate HD transfer for its first ever UK Blu-ray release along with an alternate opening extra never before released in the UK.
Academy award nominee Ryan O'Neal plays The Driver, the criminal underworld's first choice in getaway drivers for risky bank jobs. He is doggedly pursued by The Detective (Dern), an eccentric cop now starting to cross the line in his desperation to catch his nemesis, and assisted by The Player (Adjani) a beautiful young woman starting to get more entangled in their rivalry than she ever anticipated.Dern's cop is always two steps behind The Driver's movements.This coda is reflected in Ed Tom Bell's pursuit of Anton Chigurh in the Coen Brothers' No Country For Old Men.
Acclaimed director Walter Hill combined his twin genre obsessions, the western and the urban crime drama to stunning effect in this essential neo-noir.