A visceral melting pot of THE CRIMSON RIVERS, I SAW THE DEVIL, A SIMPLE PLAN!
A visual feast but not for the faint of heart, Un Certain Regard contender MURDER ME, MONSTER (MUERE, MONSTRUO, MUERE) is an atmospheric and eerie, Argentinian fantasy-horror-thriller with cult appeal from writer/ director Alejandro Fadel (The Wild Ones). Starring newcomer Victor Lopez as a policeman investigating a series of gruesome murders after headless bodies start to appear in the region. The excellent Lopez stars alongside the equally talented Tania Casciani (Los Ojos Ilorosos), Esteban Bigliardi (La Flor) and Sofia Palomino (upcoming Emilia).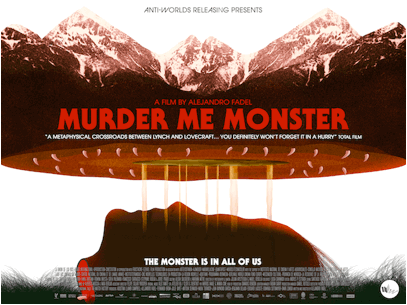 When rural police officer Cruz (Victor Lopez) investigates the bizarre case of a headless woman found in a remote area by the Andes mountains, David (Esteban Bigliardi), the husband of his lover Francisca (Tania Casciani), becomes the prime suspect. David is sent to a local mental hospital after he blames the murder on the inexplicable appearance of a monster who he claims brutally beheads its victims after they plea "Murder Me, Monster". As more bodies are found it becomes apparent that the culprit may still be at large and Cruz must work fast to determine who, or what, the real monster may be.