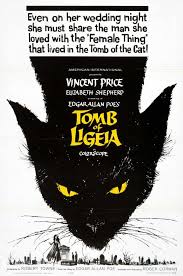 Starring: Vincent Price, Elizabeth Shepherd, John Westbrook
THE EYES, THEY CONFOUND ME!
For the last of his cycle of Edgar Allan Poe adaptations, Roger Corman asked screenwriter Robert Towne (Chinatown) to turn Poe's story 'Ligeia' into another vehicle for Vincent Price, who once again plays a man so haunted by his past that he is unable to function in the present.
In this case the past comes in the form of his now-deceased first wife Ligeia, who casts a long shadow over an ill-advised second marriage to a woman who resembles her (Elizabeth Shepherd), particularly when he becomes convinced that Ligeia's spirit is returning to him in the form of a black cat. But is this actually a delusion on his part?
Although the doom-laden narrative and Price's tormented performance had become well established ingredients in the Corman Poe cycle, the film looks strikingly different from the earlier films, with much of it taking place in broad daylight, and shot in actual English locations (notably Stonehenge and Norfolk's Castle Acre Priory) instead of Hollywood sets.
SPECIAL EDITION CONTENTS:
High Definition Blu-ray (1080p) presentation of the feature, transferred from original
film elements by MGM
Original uncompressed Mono PCM Audio
Optional isolated music and effects track
Optional English subtitles for the deaf and hard of hearing
Audio commentary by director and producer Roger Corman
Audio commentary by star Elizabeth Shepherd
All-new interviews with crew members including cowriter/production assistant Paul Mayersberg, first assistant director David Tringham, clapper loader Bob Jordan and composer Kenneth V. Jones
Original Theatrical Trailer
Reversible sleeve featuring original and newly commissioned artwork by the Twins of Evil
Collector's booklet containing new writing by Julian Upton, illustrated with original production stills.