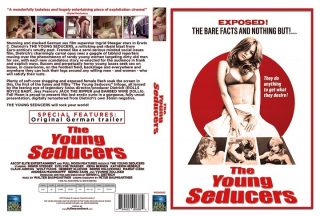 German Cult film starlet Ingrid Steeger stars in Erwin C. Dietrich's THE YOUNG SEDUCERS, a rollicking and ribald blast from Euro-erotica's smutty past.THE YOUNG SEDUCERS trilogy, all of them lensed by the leering eye of legendary Swiss director/producer Dietrich (ROLLS ROYCE BABY, Jess Franco's JACK THE RIPPER and BARBED WIRE DOLLS) is a must have for Euro-Sleaze and Exploitation movie lovers.
Full Moon is proud to present this lost erotic curio in a gorgeous, digitally remastered, fully uncut presentation culled from Dietrich's own 35mm negative. THE YOUNG SEDUCERS will rock your world!
THE YOUNG SEDUCERS is now available on remastered DVD via Amazon and Full Moon Direct and available to stream via Full Moon's Amazon channel and Full Moon Streaming.