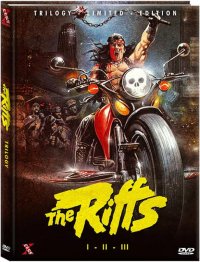 Deluxe, limited edition mediabook with Bronx Warriors, Escape from the Bronx and Rats – Night of Terror! PAL Region 2
Strictly limited to 999 pieces Mediabook 
Booklet/ Trailers / Photo Gallery and More! 
Starring: Vic Morrow,Christopher Connelly,Fred Williamson,Mark Gregory,Stefania Girolami,Ennio Girolami,George Eastman,Joshua Sinclair,Henry Silva,Valeria D`Obici,Giancarlo Prete,Paolo Malco,Antonio Sabato,Alessandro Prete,Ottaviano Dell'Acqua,Geretta Geretta,Massimo Vanni,Richard Cross,Ann-Gisel Glass,Jean-Christophe Bretigner,Fausto Lombardi,Henry Luciani.