Vinegar Syndrome presents the notoriously rare sexploitation slasher THE JEKYLL & HYDE PORTFOLIO along with the lost sexploitation comedy, A CLOCKWORK BLUE! This will be your only opportunity to see both films on Blu-ray as well as own the X- rated cut of A CLOCKWORK BLUE!
THE JEKYLL AND HYDE PORTFOLIO (1971) Director: Eric Jeffrey Haims / 81 minutes / Color / AR: 1.85:1
In this hybrid of slasher film and sexploitation, a mad killer is stalking the staff at a secluded nursing academy. Who will be the next victim and why does the killer carve a 'V' into the bodies of his beautiful female victims ? Only previously available in the UK on the super rare and highly collectable Intervision Pre Cert, Vinegar Syndrome's Uncut remasterd release is great news for Horror and Sexploitation fans.Just when you think a film has been lost forever…… !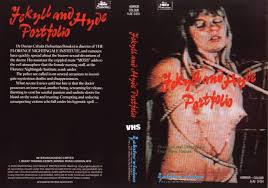 A CLOCKWORK BLUE (1972)  Director: Eric Jeffrey Haims / 86 minutes / Color / AR: 1.85:1
Hapless researcher Homer travels through time, jumping through the erotic history of civilization. From George Washington to Marie Antoinette, A CLOCKWORK BLUE is a ribald, slapstick delight presented here in its rare original X rated cut!
Features:
2 Disc Combo (Blu-ray BD-50 & DVD-9) | Region Free | 1.85:1 AR | DTS-HD Master Audio
CLOCKWORK = restored in 4K from 35mm original camera negative
JEKYLL = restored in 2k from 35mm blowup negative