Director: Renny Harlin / Starring: Gemma Atkinson,Matt Stokoe,Holly Goss,Luke Albright,Ryan Hawley.
Based on the bizarre but true events surrounding the mysterious deaths of nine ski hikers who went missing in the Ural Mountains in 1959, "The Blair Witch Project" meets "The Descent" by way of "The X Files" in this unnerving supernatural shocker from the director of "Die Hard 2" and "Deep Blue Sea".
Directed by Renny Harlin (Deep Blue Sea; The Long Kiss Goodnight; Cliffhanger; Die Hard 2; A Nightmare On Elm Street 4: The Dream Master) and starring Gemma Atkinson (Night Of The Living 3D Dead; Casualty; Airborne; Hollyoaks), Matt Stokoe (Misfits; The Village; Black Mirror) and Holly Goss (Trinity).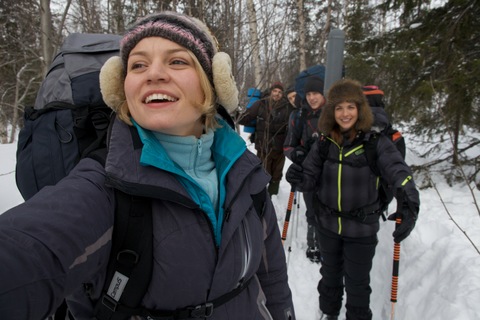 In February 1959, nine ski hikers went missing in a remote area of the Ural Mountains in Russia. Two weeks later all nine were found dead, half dressed and hundreds of yards from their camp, their bodies giving off high levels of radiation and bearing severe internal injuries, including broken ribs and fractured skulls, but showing no discernible external wounds or any signs of a struggle. Their deaths have remained a mystery, with rumours attributing the incident to everything from alien encounters, government conspiracies and the supernatural. Now, five American college students are hoping to solve the mystery of what has become known as the Dyatlov Pass Incident by retracing the steps of the original ill-fated expedition and documenting their findings on film. But what they are about to discover in the remote, icy wastes will prove to be more shocking and unexpected that anything they could possibly have imagined.
Based on a true story that to this day remains shrouded in mystery, "The Dyatlov Pass Incident" takes the known facts of the tragedy and spins them into a truly chilling horror experience that brilliantly combines elements of contemporary history, conspiracy theory, sci-fi and the supernatural that all contribute to a knock-out twist and a breathtaking finale. Acclaimed Hollywood blockbuster action movie director Renny Harlin adds a unique level of flair to the claustrophobic atmosphere and, as in his previous work, gleefully pulls out all the stops when delivering the thrills.