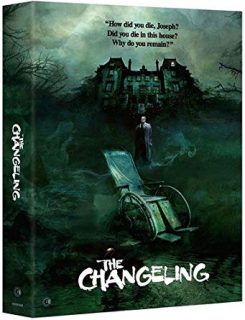 'A childs ball bouncing down a flight of stairs was enough to scare the daylights out of me' Stephen King.
Cited as a huge influence by renowned film-makers including Martin Scorsese and Alejandro Amenabar and lauded by horror aficionados and audiences alike, The Changeling is one of the most chilling horrors of all time and now it arrives in a brand new restored version for the first time on Blu-ray, featuring stunning newly commissioned artwork by Christopher Shy. One of the last classic horror films to finally be released in high-definition, Peter Medak's (The Krays) The Changeling arrives as a limited edition collectors set including stunning packaging, a poster, a 40-page perfect bound booklet and a slew of newly created special features such as a commentaries, interviews and featurettes.
One of my favourite horror films (in my top 5) just jumped a couple of places via this restored and remastered release. Never has it looked this glorious.
SPECIAL EDITION FEATURES:
Brand new 4K scan and restoration
Audio commentary with director Peter Medak and producer Joel B. Michaels
'The House on Cheesman Park' – The Haunting True Story of The Changeling
'The Music of The Changeling' – Interview with Music Arranger Kenneth Wannberg
'Building The House of Horror' – Interview with Art Director Reuben Freed
'The Psychotronic Tourist' – The Changeling
'Master of Horror Mick Garris on The Changeling'
Trailer, TV Spot
New English subtitles for the hearing impaired
Reversible sleeve with new artwork by Christopher Shy and original poster artwork
LIMITED EDITION CONTENTS:
Original Soundtrack CD
40 page perfect-bound booklet with new essay by Kevin Lyons, original production notes and archive on-set interview
Double-sided poster featuring new artwork by Christopher Shy and original poster artwork
Rigid slipcase