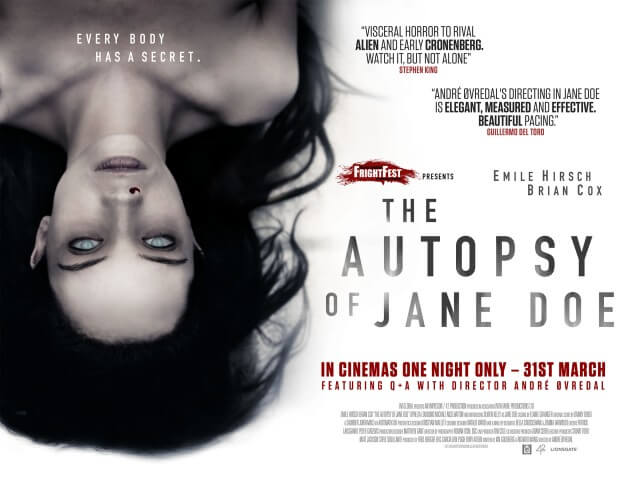 RELEASED IN UK CINEMAS FOR A ONE-NIGHT-ONLY SPECIAL PRESENTATION IN ASSOCIATION WITH FRIGHTFEST ON FRIDAY 31st MARCH 2017.
Directed By André Øvredal / Starring Brian Cox, Emile Hirsch, Ophelia Lovibond, Michael McElhatton, Olwen Kelly
Having terrifying audiences at The BFI London Film Festival, Toronto International Film Festival, Fantastic Fest and Sitges Film Festival, André Øvredal 's THE AUTOPSY OF JANE DOE will receive a one-night-only special presentation in cinemas across the UK on 31st March 2017.
Along with impressing the godfather of genre, Stephen King, who described the film as a "visceral horror to rival ALIEN and early Cronenberg", the one-night special presentation is co-hosted by Frightfest, the UK's brand leader for recognising totally unexpected and surprising genre titles, alongside Lionsgate UK. This unique cinema event will not only showcase the film but will also include a 15-minute Q&A with Trollhunter filmmaker Andre Øvredal hosted by Frightfest's very own king of horror, Alan Jones.
Experienced coroner Tommy Tilden and his grown-up son Austin run a family-owned morgue and crematorium in Virginia. When the local Sheriff brings in an emergency case – an unknown female corpse nicknamed 'Jane Doe', found in the basement of a home where a multiple homicide took place – it seems like just another open-and-shut case. But as the autopsy proceeds, these seasoned professionals are left reeling as each layer of their inspection brings frightening new revelations. Perfectly preserved on the outside, Jane Doe's insides have been scarred, charred and dismembered – seemingly the victim of a horrific yet mysterious ritualistic torture. As Tommy and Austin begin to piece together these gruesome discoveries, an unnatural and terrifying force takes hold of the crematorium. While a violent storm rages above ground, it seems the real horrors lie on the inside.
THE AUTOPSY OF JANE DOE will be released in the UK & Ireland by Lionsgate UK, and will be released digitally on 19th June and DVD/VOD 26th June.