VIRTUALLY UNSEEN FOR 45 YEARS, DENNIS HOPPER DOC  "THE AMERICAN DREAMER"  TO HAVE LIMITED RELEASE IN CINEMAS FOLLOWED BY WORLD EXCLUSIVE RUN ON MUBI.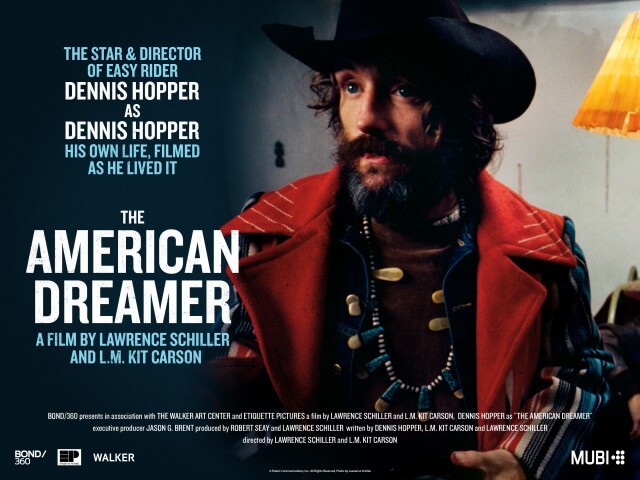 A film by LAWRENCE SCHILLER and L.M. KIT CARSON 
For the first time in 45 years, audiences around the world will get the chance to see Lawrence Schiller and L.M. Kit Carson's enthralling and intimate 1971 documentary THE AMERICAN DREAMER which captures Dennis Hopper at the height of his success in the wake of his hit film Easy Rider.
The film will enjoy a worldwide exclusive launch on curated on demand service MUBI from February 12 for 30 days, on the back of a limited release in cinemas.

Rediscovered, the film has now been digitally restored and will be shown in UK theatres for the first time ever at DocHouse starting February 5 and Picturehouse Central February 12. The famed Los Angeles Cinefamily will showcase a retrospective on director Lawrence Schiller February 4-6, culminating in a screening of THE AMERICAN DREAMER, followed by a premiere at the recently opened Alamo Drafthouse New Mission in San Francisco on February 11.
"Journeying to New Mexico with Kit to make THE AMERICAN DREAMER with Dennis back in 1971 was an experience of a lifetime. Now 40 years later the film's renewed acceptance in theaters and on digital devices around the globe is incredible," said Lawrence Schiller. "I'm thrilled to share Dennis' larger than life persona with a whole new generation of film audiences."
Fortuitously timed, fantastically made, and virtually unseen, THE AMERICAN DREAMER is the great 70s documentary you always wished existed.
The wild, unexpected success of Easy Rider (1969) ushered in what is now seen as one of the most significant turning points in film history, making pathologically rebellious Dennis Hopper an unlikely King of Hollywood for a day. Hopper's follow-up work, The Last Movie (1971), a deeply personal, but ultimately disastrous meditation on the meaning of cinema, found Hopper drifting further and further into eccentricity.
Captured by co-directors Lawrence Schiller and L.M. Kit Carson, THE AMERICAN DREAMER is a multifaceted portrait of the life and mind of one of the 20th century's great cinematic voices at the peak of his artistic and commercial success. Shifting between being an insightful document of a complex artist (considered one of the true "enfant terribles" of Hollywood) in the midst of his creative process and a self-reflective exploration and explosion of vérité filmmaking tropes, THE AMERICAN DREAMER is a mesmerizing journey into the private world of one of Hollywood's most hypnotic directors/stars.