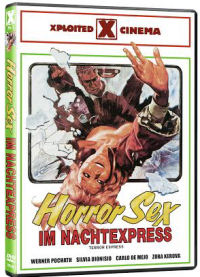 Aka: La ragazza del vagone letto.
When young Julia hops on the night train, she is unaware of what the following hours hold in store for her. It was supposed to be nothing more than a quick job: quick money and quick sex in the anonymity of her private compartment. But what starts out as harmless fun, turns into an infernal trip into sheer terror when three shady characters declare the train their own personal hunting ground. Soon Julia and her fellow travelers fall prey to their perverted games. Tortured and humiliated, they have only one chance to survive: they must strike back – with a vengeance! Soon the night train turns into hell on wheels, unstoppable in its blood-crazed race on the tracks of pure madness.
Import DVD
PAL Region 2
German (DD 2.0 Mono), Italian (DD 2.0 Mono)
Subtitles: German, English
"Tales from the Rails" featuring George Eastman, Zora Kerova, Carlo de Mejo (with optional German and English subtitles)
Italian + English trailers.