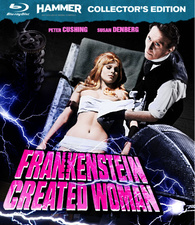 Millennium Entertainment has officially announced and detailed its upcoming Collector's Edition Blu-ray of director Terence Fisher's Frankenstein Created Woman (1967), starring Peter Cushing, Susan Denberg, Thorley Walters, and Robert Morris.
A tormented girl (Denberg) drowns herself after her lover is framed for her father's murder and guillotined. Baron Frankenstein (Cushing), experimenting with the transfer of souls, places her lover's soul into her body, bringing Christina back to life. With no memories of her past life, she becomes driven by a ghostly revenge and carries out a violent retribution on those responsible for both deaths.
Special Features:Audio Commentary Featuring Derek Fowlds ("Johann"), Robert Morris ("Hans") and Jonathan Rigby (Hammer Historian) / Frankenstein Created Woman Trailer / World of Hammer Episode "The Curse of Frankenstein" / World of Hammer Episode "Hammer Stars: Peter Cushing" / Brand New Documentary: "Hammer Glamour" / Animated Stills Gallery / Includes Exclusive Collectable Cards.