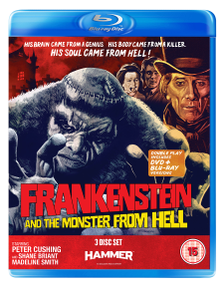 His brain came from a genius. His body came from a killer. His soul came from Hell.
Starring: Peter Cushing, Shane Briant, Madeline Smith, David Prowse, Patrick Troughton, Bernard Lee.
Convicted of bodysnatching and using the body parts of his ill-gotten cadavers for research, Dr. Simon Helder is sentenced to five years in an insane asylum. On arrival, he recognises the penitentiary's resident surgeon as none other than the infamous Baron Victor Frankenstein, who has been hiding out there and continuing his research into the reanimation of corpses under the pseudonym of Dr. Carl Victor. Recognising Helder's surgical skills, Frankenstein enlists the young doctor as his assistant under the pretext of their tending to the medical needs of their fellow inmates. But the reality of the situation is far more sinister. Frankenstein is already well on his way to creating a new living creature assembled from the vital organs of murdered criminals and madmen.
Extras: Taking Over The Asylum: The Making Of Frankenstein And The Monster From Hell. – Charming Evil: Terence Fisher at Hammer. – Audio commentary by Shane Briant and Madeline Smith, moderated by Marcus Hearn. – Animated stills gallery. – The Final Cut: Hammer's Monster From Hell PDF Booklet By Marcus Hearn and Jonathan Rigby.