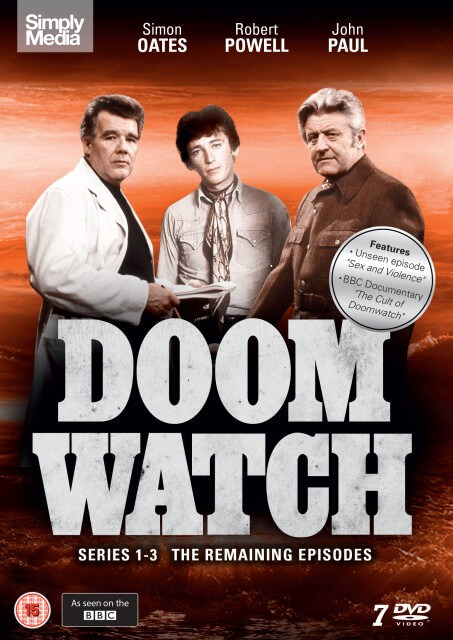 Groundbreaking classic British sci-fi series Doomwatch originally aired on the BBC from 1970 to 1972 and at its peek, attracted in excess of 13.6 million viewers and spawned two film adaptations. Although in huge demand, it has never before been available on DVD, until now… Thanks to Simply Media Doomwatch Series 1-3 makes its long awaited DVD debut- available now!
Doomwatch has been loitering in unreleased TV hell for many years and was once thought lost completely. Simply Media have delivered a stunning 7 disc package of not only the surviving episodes but a rare, never transmitted episode 'Sex & Violence', listed as Series 3 Episode 12, making it the last ever episode of Doomwatch from 1972.Much like the release of the thought to be long lost Dr Who episodes onto DVD last year, Doomwatch is a Retro Sci-Fi and Vintage TV lovers dream. There were 38 episodes of Doomwatch filmed at BBC's Shepperton Studios between 1970 and 1972.Only 23 of those episodes have survived the passage of time. The missing 15 episodes are assumed to have been destroyed. Episode 03-12, 'Sex and Violence', was never transmitted and another, 'The Devil's Demolition', was filmed but never saw the light of day.
Episode List: Disc 1 S01, E01 – The Plastic Eaters; S01,E04 – Tomorrow The Rat; S01,E05 – Project Sahara; S01,E06 – Re-Entry Forbidden Disc 2 S01,E07 – The Devil s Sweets; S01,E08 – The Red Sky; S01,E10 – Train and De-Train; S01,E11 – The Battery People Disc 3 S02,E01 – You Killed Toby Wren; S02,E02 Invasion; S02,E03 – The Islanders; S02,E04 – No Room for Error Disc 4 S02,E05 – By The Pricking Of My Thumbs; S02,E06 – The Iron Doctor; S02,E07 – Flight Into Yesterday Disc 5 S02,E08 – The Web Of Fear; S02,E09 – In The Dark; S02,E10 – The Human Time Bomb Disc 6 S02,E11 – The Inquest; S02,E12 – The Logicians; S02,E13 – Public Enemy Disc 7 S03,E04 – Waiting For A Knighthood; S03,E06 – Hair Trigger; S03,E12 – Sex And Violence (Never transmitted); Extra – The Cult Of Doomwatch (documentary)
The cult series is the brainchild of Kid Pedler and Gerry Davis, the men responsible for Doctor Who's iconic Cybermen, and follows government agency The Department of Measurement of Scientific Work AKA Doomwatch, as they fight to protect mankind from all manner of horrifying technology and experiments gone wrong.