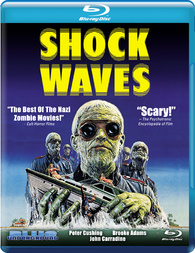 Starring: Peter Cushing, Brooke Adams, Fred Buch, John Carradine and Luke Halpin.
In the dark days of World War II, the Nazi High Command ordered its scientists to create a top secret race of indestructible zombie storm troopers – un-living, unfeeling, unstoppable monstrosities that killed with their bare hands. They were known as The Death Corps. No member of this horrific SS unit was ever captured by Allied Forces – and, somewhere off the coast of Florida they have survived.
Peter Cushing (The Curse of Frankenstein), Brooke Adams (The Dead Zone) and John Carradine (The Howling) star in this suspenseful and genuinely creepy shocker co-written and directed by Ken Widerhorn (Return of the Living Dead II), one of the great horror "sleepers" of the 1970s.