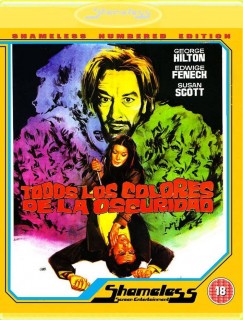 All the illicit thrills which genre fans cherish (sex, violence, weirdness galore) are present,woven in a Hitchcockian woman-in-peril/murder mystery plot with trippy, supernatural thrills. Bruno Nicolai's sitar-tinged music score swirls into psychedelic overdrive. Starring the undisputed Queen of Italian exploitation: the impossibly beautiful, sensuous, Edwige Fenech, whose uninhibited nudity in films is never ever vulgar. Here she stars as a woman who joins a satanic sect in order to escape from a man who is trying to kill her. A black-robed orgy ensues, replete with blood sacrifice, oddball chanting, and a delectable helping of nudity and sex.
Specail Features:A brand new Shameless interview with director Sergio Martino/Limited numbered collectors edition/
Italian and English Audio /Optional English subtitles/Original aspect ratio: 2.35:1.