PAL Region 2 / Limited Edition of 1000 / Italy 1974
A film by Sergio Martino (The Tail of the Scorpion, Torso)
Starring: Luc Merenda (The Killer Mafia, Puzzle),Dayle Haddon (Spermula), Enrico Maria Salerno (The Syndicate), Corrado Pani (Rocco and His Brothers, Welcome to Hell)
Hidden within the nightclubs of Milan are private casinos that offer illegal gambling to the highest bidders. Into this world comes Luca Altieri, the fastest card shark in town. Now, he's caught the eye of "The President", the underworld's most powerful figure, and he's no longer working alone. What's worse, Luca's fallen in love with Maria Luisa, the gorgeous girlfriend of the President's power-mad and insanely jealous son, Corrado. Can Luca make off with the girl and his winnings without getting killed ? Even a betting man like Luca has to admit that the cards are stacked against him this time.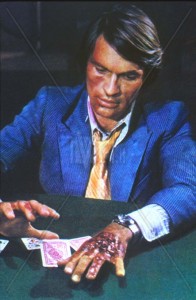 Better known for his giallo and polizia thrillers, GAMBLING CITY shows that director Sergio Martino (TORSO, MOUNTAIN OF THE CANNIBAL GOD) could also handle lighter fare with great ease. Working off of a script he co-wrote with frequent collaborator Ernesto Gastaldi (THE STRANGE VICE OF MRS. WARDH, MY NAME IS NOBODY), GAMBLING CITY is an exciting and action-packed thriller with plenty of romantic and comedic touches populated by likeable characters. The first-rate cast is lead by Luc Merenda (THE VIOLENT PROFESSIONALS, LES MANS) as Luca, supermodel Dayle Haddon (NORTH DALLAS FORTY), Enrico Maria Salerno (NIGHT TRAIN MURDERS) and Corrado Pani (ROCCO AND HIS BROTHERS), and filled with beautiful locations in Milan and the French Riviera. In the tradition of such card shark classics as THE STING, GOD OF GAMBLERS and ROUNDERS, GAMBLING CITY is a royal flush of style and entertainment.
Specifications:
Picture: Color / Format: 2.35:1 (anamorphic)
Sound: German & Italian
Subtitles: English & German
Running time: approx 93 minutes