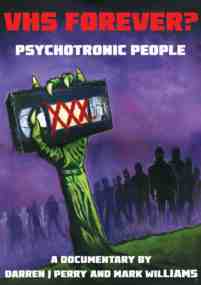 Mark Williams & Darren J Perry's documentary was shot this year over 8 months in or around the London area for a very low budget indeed but somehow they managed to attract a top notch Horror genre cast along the way inc Film Critic/Author Kim Newman, Director/president of Troma inc Lloyd Kaufman, Actress Caroline Munro, Screenwriter/Actor David McGilivray, Graphic Artist Graham Humphries, Author/Director Marc Morris etc.
They originally intended to shoot totally on VHS tape to capture that 80's VHS look but sadly it wasn't to be as both their vintage JVC cameras developed the same lens fault.They soldered on using a combination of VHS tape, Digital and finally Hi-8 tape which still has a solid look of VHS about it.
VHS FOREVER? Psychotronic People presents an honest, often amusing and well balanced look at the golden days of the UK VHS collecting scene during the 80/90's with lots of candid interviews from the collectors themselves and also the people behind the scenes too.
VHS FOREVER? Psychotronic People premieres on Saturday 20th Sept as part of the Good Bad Unseen/Scalarama VHS All Dayer in London.
Long live VHS!!!