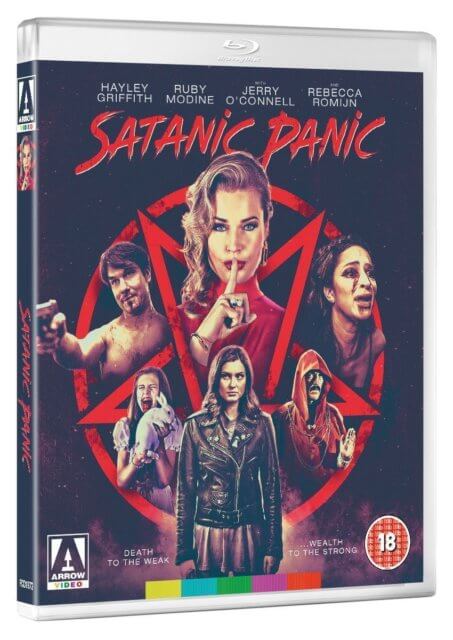 Riffing on SOCIETY, THE PURGE, HOUSE OF THE DEVIL READY OR NOT and 
YOU'RE NEXT. Director Chelsea Stardust delivers a deliriously lurid slice of horror sprinkled with black comedy.This is an outstanding feature debut and another great example of female – led horror with defining themes (see Anna Biller's THE LOVE WITCH and The Soska Sisters).
Murder goes luxe in this hilarious horror romp produced by the top tome in terror, Fangoria. From the creative pairing of renowned author Grady Hendrix (Horrorstör, My Best Friend s Exorcism) and a cast led by Rebecca Romijn (X-Men, The Librarians) and Jerry O Connell (Billions, Piranha 3D), Satanic Panic is a delightfully camp peek into the dastardly vice of the 1%.
When Sam s first day slinging pizza is a total wash-out, she decides to go against the advice of her colleagues and take one last delivery in the wealthy enclave out of town. Once again stiffed for a tip, she breaks into an imposing mansion to try to convince them to pay up. Unfortunately, she s stepped right into a Satan-worshipping, demon-summoning, virgin-sacrificing coven! The bad news just keeps coming for our hero, as these society sorcerers are down a virgin and today is sacrifice day. What ensues is a fight for survival as Sam takes on murderous babysitters, blood-crazed soccer mums and more than her fair share of lustful demons.Welcome to the 1%, where the rich get richer and the poor get offered to Baphomet.
SPECIAL EDITION CONTENTS: High Definition Blu-ray (1080p) presentation / Original lossless 5.1 DTS-HD Master Audio and 2.0 PCM stereo audio / Optional English subtitles for the deaf and hard of hearing / Director Chelsea Stardusts video introduction to the Arrow Video FrightFest UK premiere / The Making of Satanic Panic, featuring interviews with Chelsea Stardust, screenwriter Grady Hendrix and multiple cast members / Girl Power members of the cast and crew discuss working on a female-driven horror movie / Sam & Judi Chelsea Stardust and actors Hayley Griffith and Ruby Modine discuss two of the films central characters / Behind the scenes reel / Theatrical trailer / Reversible sleeve featuring two choices of artwork / FIRST PRESSING ONLY: Illustrated collector s booklet featuring new writing by Alexandra Heller-Nicholas.