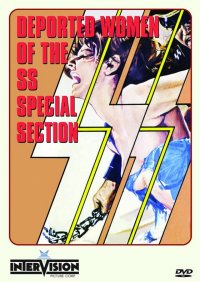 One of the first Italian Nazisploitation shockers is also one of the strangest: John Steiner (CALIGULA, TENEBRAE) stars as the depraved Commandant of a camp where beautiful women are brutalized, degraded, forced to submit to female officers, and trained to be prostitutes for the Reich. But will a mass escape attempt unleash the most sadistic tortures of all? Lina Polito (ALL SCREWED UP), Erna Schurer (SCREAM OF THE DEMON LOVER), Sara Sperati (SALON KITTY) and Solvi Stubing (STRIP NUDE FOR YOUR KILLER) co-star in this rancid slab of uber-sleaze from writer/director Rino Di Silvestro (HANNA D, WEREWOLF WOMAN), now presented totally uncensored including the notorious cork & razor scene!
NTSC All Region
Run Time: 96 Minutes Language: English Color
Widescreen 1.78:1 English Stereo 2.0 
Special Features:
A Brief History of Sadiconazista- Interview with Film Historian Marcus Stiglegger
Theatrical Trailer – What Does John Steiner Think?