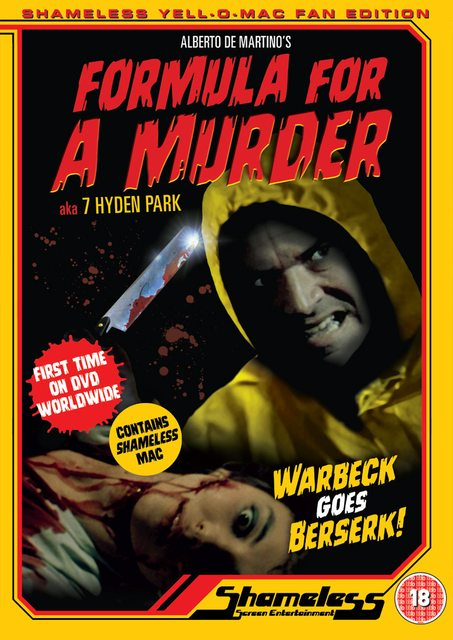 This release is somewhat of a holy grail for giallo fans as it has never seen a UK release on any format, making this one of the rarest titles in the Shameless film cannon.Formula For A Murder (aka 7 Hyden Park La Casa Maledetta) was Alberto De Martino's last directorial credit.No stranger to the giallo genre having directed The Man With The Icy Eyes ('71) and The Killer Is On The Phone ('72).The late David Warbeck gives an outstanding performance here and also worked previously with De Martino's on Miami Golem (1985).
The film opens in 1960 Boston with a faceless maniac dressed as a priest who gives a little girl a doll. Only the doll escapes … Some 20 years later, the victim Joanna – who is now wheelchair bound – is revealed as being a wealthy heiress who has funded a sports centre for paraplegics. She now plans to also donate a substantial amount of her wealth to the local church… but someone else close to her fancies the cash and will flash a razor in anyone's face to get it!
Release Date: 27th January 2014
Special Features: Trailers, Collector's Lobby Cards Gallery, Alternative English Credits & Shameless Trailer
Certificate: 18
Run Time: 85 mins (approx.)
Year: 1985
Audio: English audio & optional Italian Audio with English Subtitles available.