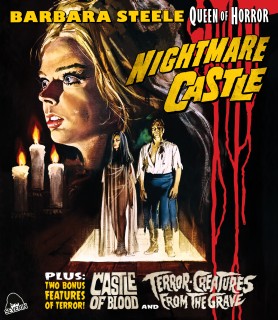 Starring: Barbara Steele, Paul Muller, Helga Line
At the height of her career as the dark goddess of Italian horror, the legendary Barbara Steele (BLACK SUNDAY) delivered two of her most memorable performances in this tale of obsession, madness and depravity. Steele stars as a cheating wife who is chained, whipped and tortured to death by her sadistic scientist husband, and as her unstable blonde stepsister whose fate may be even more ghastly. Paul Muller (VAMPYROS LESBOS), Helga Line (HORROR EXPRESS) and Rik Battaglia (SISTER EMANUELLE) co-star in this twisted shocker directed by Mario Caiano, featuring stunning black & white cinematography by Enzo Barboni and the very first horror score by Ennio Morricone. Throw away all those inferior transfers from censored TV prints: This is NIGHTMARE CASTLE like you've never seen it before!
Bonus features:Terror Creatures From the Grave feature/Castle of Blood feature/Audio Commentary with Barbara Steele and Horror Historian David Del Valle/Barbara Steele In Conversation — Exclusive Featurette With The Queen Of Horror/Black, White And Red — Exclusive Featurette With Director Mario Caiano/Nightmare Castle US & UK trailers/Vengeance From Beyond featurette from Terror Creatures From the Grave (Italian with optional English subs)Terror Creatures From the Grave Deleted Scenes (French with optional English subs)A Dance of Ghosts — New featurette for Castle of Blood/Terror Creatures From the Grave trailer/Castle of Blood trailer.