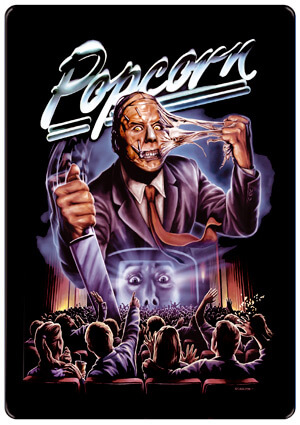 Director: Mark Herrier / Starring: Jill Schoelen, Dee Wallace, Ray Walston, Tony Roberts, Malcolm Danare, Tom Villard.
What could be scarier than an all-night "Horrorthon"? A group of film students finds out when they stage just such an event at an abandoned movie palace. In addition to the three features—MOSQUITO, THE ATTACK OF THE AMAZING ELECTRIFIED MAN and THE STENCH—they decide to screen a bizarre short called THE POSSESSOR, whose creator, Lanyard Gates, killed his family and set the theater on fire after its first showing. Maggie (Jill Schoelen, THE STEPFATHER) has been having frightening dreams that seem to be connected to THE POSSESSOR, and as the festival proceeds, the nightmare comes true for her and her friends as they are stalked and slain by a mysterious killer. Has Gates survived to continue THE POSSESSOR's deadly legacy?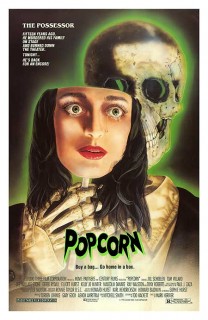 A loving homage to '50s/'60s B-movies (the trio of flicks shown at the Horrorthon all have accompanying William Castle-style gimmicks), POPCORN is also an insanely fun horror/comedy in its own right. Pseudonymously written by Alan Ormsby (CAT PEOPLE, DEATHDREAM), who directed the films-within-the-film, it celebrates the joys of old-fashioned creature features and '80s-style stalk-and-slay, with a great cast additionally including Dee Wallace Stone (THE HOWLING), Tony Roberts (AMITYVILLE 3-D), Ray Walston (THE STAND), Malcolm Danare (CHRISTINE) and Kelly Jo Minter (A NIGHTMARE ON ELM STREET 5). Pop some popcorn of your own and settle in to watch this new high-definiton transfer, which comes with a box full of bonus features!

Special Features:
ALL REGION / PLAYABLE WORLDWIDE!
Brand-New 2K Scan of a 35mm Interpositive Vault Element
All-New Blu-ray 7.1 Surround Sound Mix Supervised by Synapse Films (Original 2.0 Stereo Mix also Included)
5.1 Surround Mix Included on DVD
Audio Commentary with Director Mark Herrier, Stars Jill Schoelen, Malcolm Danare, and Special Makeup Effects Artist Mat Falls
MIDNIGHT MADNESS: THE MAKING OF "POPCORN" featuring interviews with Director Mark Herrier, Stars Jill Schoelen, Derek Rydall, Dee Wallace, Malcolm Danare, Ivette Soler, and Elliott Hurst, Special Makeup Effects Artist Mat Falls, Composer Paul Zaza, and Distributor Executive Jonathan Wolf (55 mins, HD)
Electric Memories – An Interview with Actor Bruce Glover
Original Theatrical Trailer
Television Trailer and TV Spots
Still Gallery
Liner Notes from Michael Gingold
English Subtitles for the Deaf and Hard of Hearing
New Collector's Edition Cover Design by Justin Osbourn/Slasher Design.