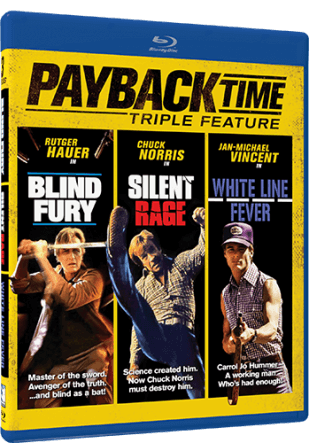 Some debts can't be paid with money.
PAYBACK'S A BITCH!
Blind Fury
(1989) – Color – R
Rutger Hauer, Terry O'Quinn, Brandon Call, Lisa Blount
He's lucky he can't see what he's up against.
Blinded and left to die in Vietnam, Nick Parker returns to the States and uses his highly-tuned senses to help an old Army buddy in an action-packed cross-country battle.
Silent Rage
(1982) – Color – R
Chuck Norris, Ron Silver
Science created him. Now Chuck Norris must destroy him. Sheriff Stevens (Norris) is faced with stopping a crazed murderer, made virtually indestructible through genetic engineering.
White Line Fever
(1975) – Color – PG
Jan-Michael Vincent, Kay Lenz, Slim Pickens
In the 1970s Arizona, a young married man becomes an independent long-haul driver and he risks his life fighting the corruption in the local long-haul trucking industry.