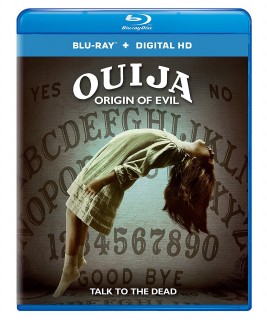 IT WAS NEVER JUST A GAME…
OUIJA: ORIGIN OF EVIL
1967 Los Angeles, a widowed mother and her two daughters add a new stunt to bolster their seance scam business and unwittingly invite authentic evil into their home. When the youngest daughter is overtaken by a merciless spirit, the family confronts unthinkable fears to save her and send her possessor back to the other side.
The chilling prequel to the horror hit invites audiences again into the lore of the spirit board when Ouija: Origin of Evil arrives on Digital Download on 13th February and on Blu-ray™, DVD and On Demand on 27th February, 2017 from Universal Pictures Home Entertainment. A two movie collection including both the original Ouija and Ouija: Origin of Evil will be released on Blu-ray™ and DVD on the same date.
Set 50 years prior to the events that took place in Ouija, director and writer Mike Flanagan (Oculus, Before I Wake) tells a terrifying new tale as a grieving spiritualist mother and her young daughters discover the buried dangers of an ancient game. With exclusive bonus content including deleted scenes, a character spotlight, a behind-the-scenes look at the making of the film, and more, Ouija: Origin of Evil delivers spine-tingling chills to viewers.