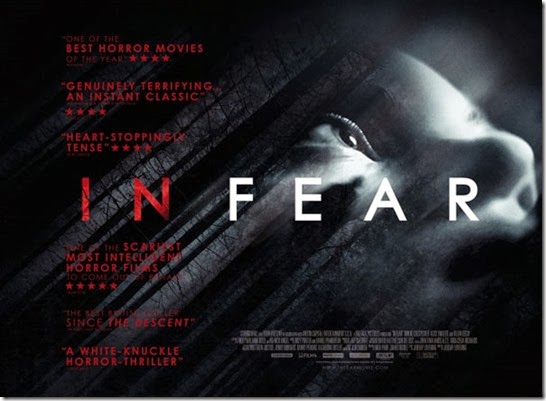 In Fear is Jeremy Lovering's first feature and is produced by Nira Park with James Biddle through her award-winning UK production company Big Talk. Nira has produced all of Edgar Wright's films including The World's End, as well as Joe Cornish's Attack The Block, Greg Mottola's Paul and Ben Wheatley's Sightseers.  
This beautifully shot, edited and character driven film is the most heart – stoppingly intense horror film of 2013. IN FEAR benefits from three truly remarkable performances from its stars Alice Englert, Iain De Caestecker and Allen Leech. Allen Leech's performance is truly outstanding. With a maniacal glint of the eye his character provides the proceedings with sustained dread and terror. I thought it was the most impressive directorial debut in horror or any other genre of 2013. Wolf Creek meets The Hitcher. Eden Lake meets The Strangers.
Influences: The Devil Thumbs A Ride, Wolf Creek, The Strangers, Them (Ils), The Hitcher, Straw Dogs, And Soon The Darkness, Eden Lake.
Jeremy Lovering has previously directed several award-winning short films and TV series including the opener of the third series of Sherlock.  He says of his debut feature In Fear: "In my darkest hour I believe fear is our state of existence – one that both motivates and is a consequence of all the suffering around us, that drives us as human beings, whether it's barging in queues, screaming at motorists, being macho, being greedy, lying, cheating, fighting or starting a war. I wanted to portray that and ask whether violence always has to be the inevitable outcome."
In Fear sees rising star Alice Englert cast in the lead role along with brilliant newcomer Iain De Caestecker. Alice Englert recently appeared as the enigmatic lead in Beautiful Creatures as well as in Sally Potter's 2012 coming-of-age drama Ginger and Rosa opposite Elle Fanning; Iain De Caestecker will star in Ryan Gosling's upcoming How to Catch a Monster and Filth, he is currently filming HBO's new Marvel Comic series 'Agents of S.H.I.E.L.D'.  In Fear also stars Allen Leech, best known for his role in the award-winning series Downton Abbey who can also be seen in 2013's Grand Piano, alongside Elijah Wood and John Cusack.