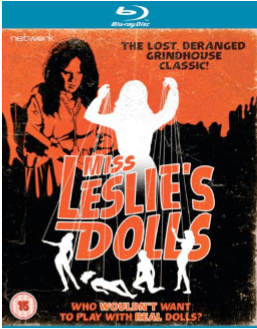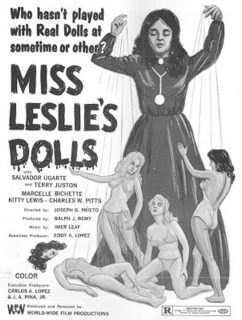 THE LOST GRINDHOUSE CLASSIC!
A rare specimen from the more deranged end of the Grindhouse spectrum, Miss Leslie's Dolls is a memorably demented tale of possession and transvestitism from director Joseph G. Prieto (who, under the name Joseph P. Mawra, directed the outrageous 1965 lesbian sexploitation "documentary" Chained Girls). Believed lost for decades, it has been re-mastered from original film elements especially for this release.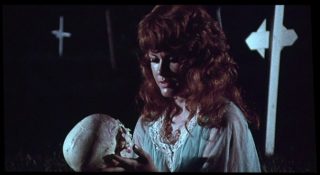 Stranded in the backwoods during a thunderstorm, a beautiful teacher and her three promiscuous students take refuge at a lonely house owned by the middle-aged Miss Leslie. Miss Leslie, however, is less a mild-mannered spinster and more an axe-wielding, homicidal cross-dresser intent on transferring his spirit into the nubile body of any girl foolish enough to come visiting.
Miss Leslies Dolls has been newly scanned from one of the few surviving prints in its original theatrical aspect ratio of 1.85:1. The restoration carried out involved careful grain management, both automated and manual removal of film dirt and damage, and correction of major instability, warping and density fluctuations.

Truly a lost film and barely released when shown in UK cinemas at the bottom half of an Adult double-bill in 1974, MISS LESLIE'S DOLLS is an Exploitation Cinema lovers dream release.Director Joseph G. Prieto, known for Exploitation classic SHANTY TRAMP (1967), really should have been heralded as a trash film auteur among the likes of Russ Meyer, David F. Friedman, Dorish Wishman and Herschell Gordon Lewis for delivering such a delirious slice of lurid cinema. Clearly an influence on the works of John Waters, MISS LESLIE'S DOLLS is essential viewing.If you can imagine a fever dream encompassing Ed Wood in drag in Woods' TAKE IT OUT IN TRADE (1972),Ron Garcia's THE TOY BOX (1971) and Freddie Francis' THE PSYCHOIPATH (1966) then we are halfway there to dismembering this one!