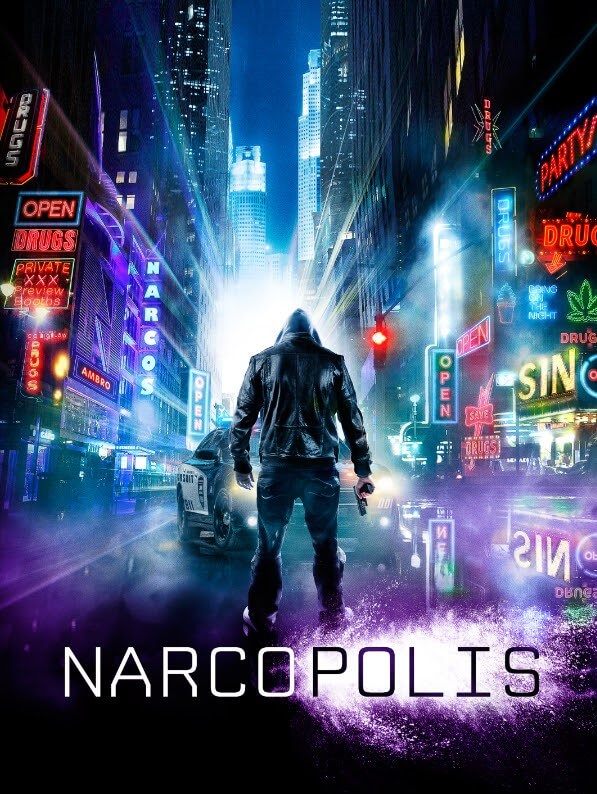 RELEASES IN UK AND IRISH CINEMAS FROM TODAY, AND ON DVD 28TH SEPTEMBER. OPENS IN US THEATRES, ON DEMAND AND DIGITAL OCTOBER 2.
Starring:Elliot Cowan, Elodie Yung, Jonathan Pryce, Harry Lloyd.
LONDON,2022. With the manufacture and use of all recreational drugs legal but controlled and exploited by licensed drug companies, a new, unlicensed drug appears on the streets. One cop is forced to protect it from corrupt colleagues and a mysterious gang desperate to get it back.NARCOPOLIS is the breath-taking feature debut of British film-maker Justin Trefgarne and stars Elliot Cowan (DA VINCI'S DEMONS, THE FRANKENSTEIN CHRONICLES) Jonathan Pryce (GAME OF THRONES, WOLF HALL), Elodie Yung (G.I. JOE RETALIATION, DAREDEVIL), Robert Bathurst (DOWNTON ABBEY, TOAST OF LONDON), Harry Lloyd (THE THEORY OF EVERYTHING, ANTHROPOID) and James Callis (BATTLESTAR GALACTICA, THE MUSKETEERS).
Fans of Kathryn Bigelow's Strange Days, Gerard Johnson's Hyena, Josh Trank's Chronicle,Rian Johnson's Looper and Ridley Scott's Blade Runner will not want to miss this fantastic debut feature from director Justin Trefgarne.