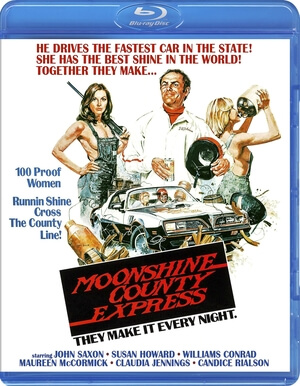 Hollywood legend John Saxon (Enter The Dragon, Hands Of Steel, Blood Beach, Strange Shadows In An Empty Room) stars in a drive-in classic! Villainous racketeer Starkey (William Conrad, Cannon, Jake And The Fat Man) has bumped off likeable moonshiner Pap Hammer. Now, Starkey must do away with Hammer's beautiful daughters Dot (Susan Howard, Dallas), Betty (Claudia Jennings, Deathsport, Truck Stop Women, Gator Bait), and Sissy (Maureen McCormick, The Brady Bunch, Texas Detour, Skatetown USA). The girls receive unexpected help from Starkey's flunkey, J. B. Johnson (Saxon), who turns out to be more than capable of helping them fight back. Moonshine County Express represents perhaps the best screen work of late Playboy model Jennings in one of her strongest roles. Also starring Albert Salmi (Cuba Crossing, Black Oak Conspiracy), Jeff Corey (Jennifer, The Wild Geese), Morgan Woodward (A Small Town In Texas, Battle Beyond the Stars), Dub Taylor (The Great Smokey Roadblock), Len Lesser (Truck Stop Women, Blood And Lace) and B-movie goddess Candice Rialson (Hollywood Blvd., Pets), and directed by Gus Trikonis (Nashville Girl, The Student Body, The Evil).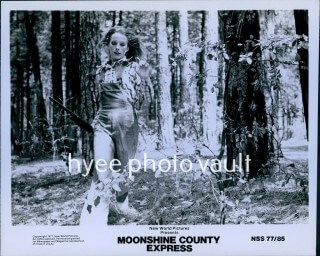 Brand new HD master from the only surviving vault elements.
English /Color /95 Minutes Anamorphic Widescreen 1.78:1 Rated PG /Region Free.