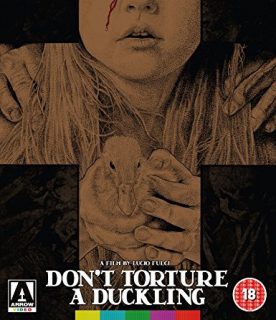 From Lucio Fulci, the godfather of gore (The Psychic, The Beyond), comes one of the most powerful and unsettling giallo thrillers ever produced: his 1972 masterpiece Don t Torture a Duckling.
When the sleepy rural village of Accendura is rocked by a series of murders of young boys, the superstitious locals are quick to apportion blame, with the suspects including the local witch , Maciara (Florinda Bolkan, A Lizard in a Woman s Skin). With the bodies piling up and the community gripped by panic and a thirst for bloody vengeance, two outsiders city journalist Andrea (Tomas Milian, The Four of the Apocalypse) and spoilt rich girl Patrizia (Barbara Bouchet, The Red Queen Kills Seven Times) team up to crack the case. But before the mystery is solved, more blood will have been spilled, and not all of it belonging to innocents. Deemed shocking at the time for its brutal violence, depiction of the Catholic Church and themes of child murder and paedophilia, Don t Torture a Duckling is widely regarded today as Fulci's greatest film, rivalling the best of his close rival Dario Argento. Arrow Video is proud to present this uniquely chilling film in its UK high definition debut.
SPECIAL EDITION CONTENTS:High Definition Blu-ray (1080p) and Standard Definition DVD presentations/Original mono Italian and English soundtracks (lossless on the Blu-ray Disc)/English subtitles for the Italian soundtrack/Optional English subtitles for the deaf and hard of hearing for the English soundtrack/New audio commentary by Troy Howarth, author of So Deadly, So Perverse: 50 Years of Italian Giallo Films/The Blood of Innocents, a new video discussion with Mikel J. Koven, author of La Dolce Morte: Vernacular Cinema and the Italian Giallo Film/Every (Wo)man Their Own Hell, a new video essay by critic Kat Ellinger/Interviews with co-writer/director Lucio Fulci, actor Florinda Bolkan, cinematographer Sergio D Offizi, assistant editor Bruno Micheli and assistant makeup artist Maurizio Trani/Reversible sleeve featuring original and newly commissioned artwork by Timothy Pittides/FIRST PRESSING ONLY: Collectors booklet with new writing on the film by Barry Forshaw and Howard Hughes.