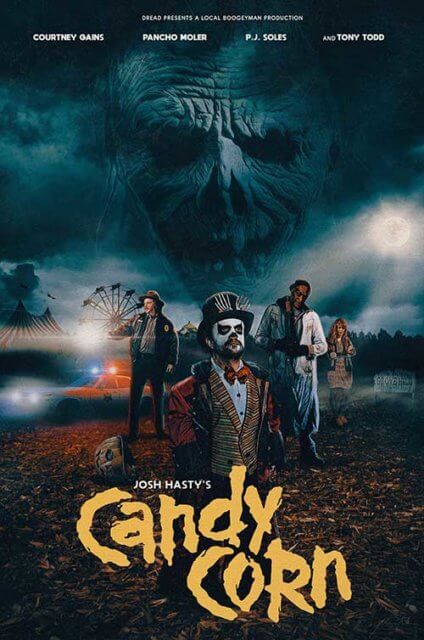 It's Halloween weekend and a group of bullies are planning their annual hazing on local outcast, Jacob Atkins. When they take things too far, he's resurrected to seek revenge against those that wronged him.
COMING TO VOD & BLU-RAY ON SEPTEMBER 17TH!

CANDY CORN is written & directed by JOSH HASTY (In Hell Everybody
Loves Popcorn), starring P.J. SOLES (Halloween), COURTNEY GAINS
(Children of the Corn), TONY TODD (Candyman), PANCHO MOLER (3 from Hell), SKY ELOBAR (The Greasy Strangler, Don Verdean, Under The Silver Lake), CALEB THOMAS (The Terror of Hallow's Eve), LOVLEE CARROLL (Anabolic Life), MATT O'NEILL (_Edgar Allan Poe's Lighthouse Keeper), and introducing NATE CHANEY.
Produced by JOSH HASTY, COURTNEY GAINS, and MATT O'NEILL alongside executive producers TONY TODD, JAMES CLAEYS (Local Boogeyman Productions) JUSTIN MABRY (Trick or Treat Studios), LINDSEY KOWALSKI, BENJAMIN SCRIVENS (Fright Rags), and JOHNNY COOPER. CANDY CORN is the first production financed by Local Boogeyman Productions.