THE GLOVE (1978)
Directed by Ross Hagen.
Starring: John Saxon,Rosey Grier,Joanna Cassidy,Aldo Ray,Joan Blondell,Michael Pataki. Aka BLOOD MAD.
Sam Kellog (Saxon) is an ex-Cop turned bounty hunter who has a big job on his hands.He is told to bring in 250 lb ex-con Victor Hale (Grier).Victor has been going berserk with a huge son-of-a-bitchin' lead and steel glove that can smash anything. He pumelled his way out of prison and is on the loose with revenge on his mind.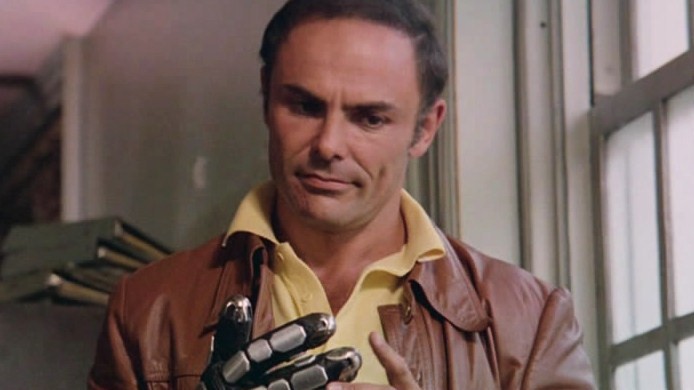 Victor has a $20,000 price tag on his head and Kellog wants to cash that cheque. He teems up with fellow bounty hunter Harry (Pataki) who is a sleazebag not to be trusted.The final hoedown has Victor and Sam fighting it out on a tenement roof top with only one glove between them. Bad egg Harry shoots Victor only to be beaten to death by Victor's pals from the 'hood, leaving Kellog with the prize money.
The Glove is a highly enjoyable Exploitation movie blending both Blaxploitation and cop movie genre's. I would have liked to see a bit more Rosey Grier in this movie. He is very easy to watch and has presence. Ex-football star Grier is the cousin of Pam Grier and can also be seen in The Thing With Two Heads (72),Treasures Of Jamaica Reef (74),The Big Push (75),Skyjacked (77),The Seekers (79) and Sophisticated Gents (81).
John Saxon also appeared in Sudden Justice,The Immigrants,Shalimar and The Electric Horseman in '78.