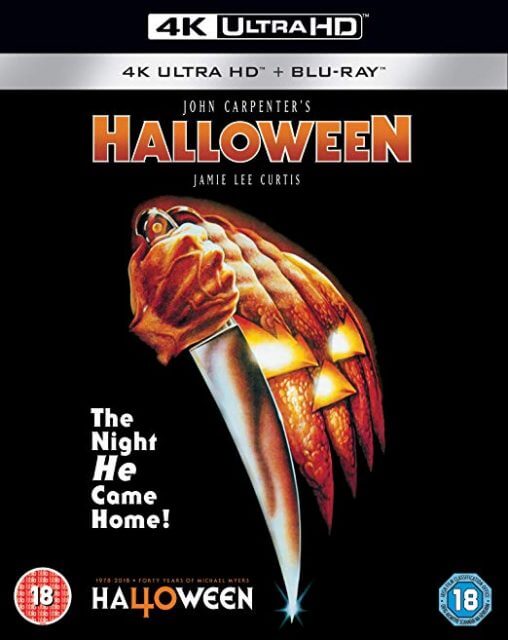 It may have been 40 years since Michael Myers returned to terrorise his hometown but the horror is as real today.
Revisit Haddonfield this Halloween as John Carpenter's classic horror film is re-released on DVD, Blu-ray and for the first time on 4K Ultra HD Blu-ray (which also includes 5 lobby-style artcards) to celebrate 40 years of terror.
With a soundtrack to remember, a face mask you'll want to forget and scares that stay with you beyond the 31st October – this is the only movie worth watching this Halloween.
The main reason for purchasing this release is the 4K Ultra HD presentation of Halloween which comes at a very reasonable price compared to most titles currently available in the 4K range. As has been previously discussed, Carpenter shot Halloween on a Panavision Panaflex camera using 35mm film. The master 35mm print was scanned in 4K and has been used for this Ultra HD release of Halloween to tie-in with the 40th Anniversary of the films release. Image wise, this 4K Ultra HD release uses the native 4K 3840 x 2160p picture in Widescreen (2.35:1).
This is the first film I have seen in 4K and, as a seasoned horror fan and as a die-hard fan of HALLOWEEN, this presentation is a complete revelation.I have never seem the film looking this clean and fresh and (some audio issues aside) this is the Horror re-release of the year.As prices of 4K Players will reduce over the coming months I urge Horror fans to pick this release up.The only downside is the Blu-ray included here.As this is the 40th Anniversary release of the film we still have included in this set the same Blu-ray Disc as used in the 35th Anniversary release from 2013.
4K UHD BD Special Features:
Original Trailer.
Commentary track with writer/director John Carpenter and star Jamie Lee Curtis.
'The Night She Came Home' new featurette with Jamie Lee Curtis in HD.
On Location.
Trailers and TV & Radio Spots.