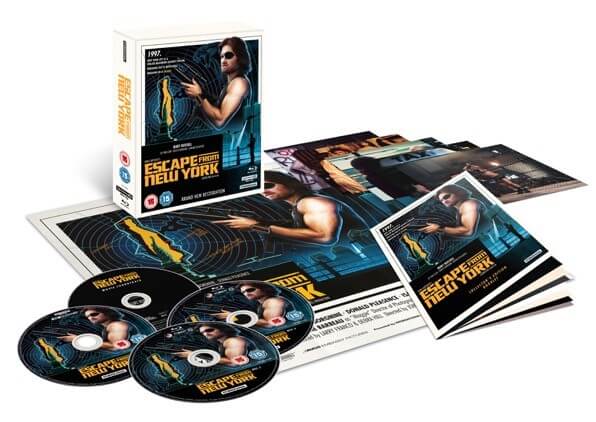 The year is 1997 and in a police state future the island of Manhattan has been turned into a maximum-security prison. The rules are simple: once you're in, you don't come out. But when the United States president (Donald Pleasance) crash lands an escape pod into the centre of the city after fleeing a hijacked plane, a ruthless prison warden (Lee Van Cleef) bribes ex-soldier and criminal Snake Plissken (Kurt Russell) into entering the hazardous Manhattan and rescuing the stranded President from the twisted underworld and the demented clutches of its criminal overlord The Duke (Isaac Hayes).
CAVE OF CULT caught an early 4k screening at London's Prince Charles Cinema.The 4k print was stunning and a complete revelation.Die-hard fans will have watched this way back in 1982 when the Avco Embassy VHS was released.The first edition was a pan and scan print missing a lot of the detail.Carpenter's vision is fully restored in this Limited Collector's Edition set.
Written by Nick Castle ('The Shape' in Halloween (1978) and Halloween (2018)) and John Carpenter and featuring what is undoubtedly the most stellar cast from any Carpenter feature.
The computer graphics on the glider display screens were animated as computer graphics were expensive at the time. To generate the wire-frame city scape, sfx designers built a model of the city, attached bright white tape to the buildings to simulate a grid system. The camera then tracked through the city.DOP Dean Cundey used a special lens  to extract the maximum amount of light from the night time shoots.The buildings in the background were matte-painted by James Cameron.
ESCAPE FROM NEW YORK has been released as a 4-disc limited Collector's Edition. This release is beautifully packaged with a stylish, newly commissioned illustration on the cover. It contains a UHD of the feature as well as a Blu-ray feature disc, extra features disc and the original soundtrack on CD. It also contains 5 artcards, a newly illustrated theatrical poster and booklet containing behind the scenes stills, articles and an essay from celebrated film journalist Kim Newman. It is also being released as a restored Blu-ray and DVD release.
The 2018 restoration of ESCAPE FROM NEW YORK was made from the 35mm original camera negative. A full 4K 16bit Dolby Vision workflow was applied to create a 4K DCP, UHD version and a new HD version which were produced with the same high technological standards as today's biggest international film releases.  The restoration and new UHD version was colour graded and approved in Los Angeles by the Cinematographer, Dean Cundey.
EXTRAS MATERIAL:
Purgatory: Entering John Carpenter's ESCAPE FROM NEW YORK:A brand retrospective documentary produced by Ballyhoo Motion Pictures and featuring interviews with writer Nick Castle, cinematographer Dean Cundey, composer Alan Howarth, production designer Joe Alves, special visual effects artist/model maker Gene Rizzardi, production assistant David De Coteau, photographer Kim Gottleib-Walker, Carpenter biographer John Muir, visual effects historian Justin Humphreys, and music historian Daniel Schweiger.
Snake Plissken: Man of Honor
Deleted Opening Sequence "Snake's Crime" with Optional Audio Commentary
Photo gallery incl. Behind the Scenes
Original Trailers
Audio Commentary with actor Kurt Russell & director John Carpenter
Audio Commentary with Producer Debra Hill and production designer Joe Alves
Big Challenges in Little Manhattan: Visual effects featurette
I am Taylor – Interview with actor Joe Unger
Audio Commentary with actress Adrienne Barbeau & DOP Dean Cundey.