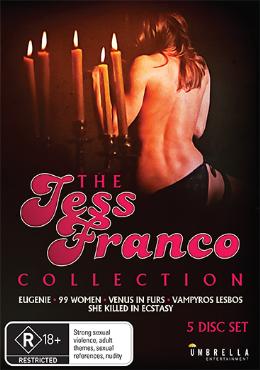 Cult filmmaker Jess Franco dedicated his life to the cinema of perversion, directing more than 200 films over a 50 year career. This controversial collection of five films highlight his predilections for tripped-out erotic tales of sadomasochism, psychedelic soft core lesbianism, babes behind bars, murdering mistress mayhem, sexual revenge and a blood drenched vampiress.
Eugenie
Eugenie (Marie Lilijedahl) is an innocent young woman taken to an island paradise and initiated into a world of pleasure and pain controlled by the sinister Dolamance (Christopher Lee). Eugenie becomes locked into her own forbidden fantasies and trapped in a frenzy of drugs, sadomasochism and murder!
99 Women
Mercedes McCambridge and Herbert Lom co-star as the sadistic wardens of an island prison where abused yet luscious young lovelies surrender to their own depraved desires. Behind bars… Without men… Experience the unchained passion of 99 Women!
Venus in Furs
Jazz trumpeter Jimmy Logan discovers the mutilated body of Wanda Reed, a beautiful woman that he saw being dragged into a deadly and sadistic sex game by a trio of decadent jet-setters. But to his dismay Wanda returns from the dead to exact revenge on the three that killed her.
Vampyros Lesbos
Countess Nadine Carody (Soledad Miranda), a dark and beautiful vampiress lures young woman to her isolated island to love…. and then kill in ecstasy! Linda Westing (Ewa Stroemberg) falls under the Countess' seductive spell, only to discover a living nightmare she may never be able to escape.
She Killed in Ecstasy
A doctor on the verge of a major scientific discovery is subjected to doubt and rejection from his peers. Unable to face the humiliation, he is doomed to commit suicide. But his grieving widow (Soledad Miranda) is determined to exact revenge on those men responsible one-by-one in a series of grisly murders.