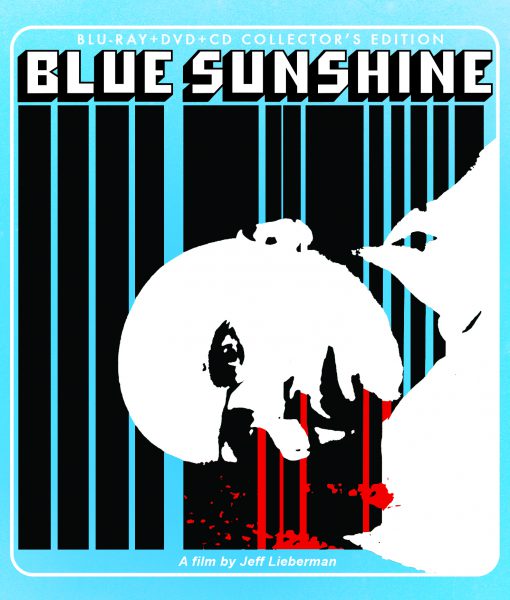 Unexplained acts of violence and murder are occurring in Los Angeles, all with a couple of strange similarities: the killers have suddenly gone bald and are somehow connected to a drug known only as 'Blue Sunshine.'
When Jerry Zipkin (Zalman King) is wrongfully accused of murdering 3 women whose real killer was his best friend, Frannie (Richard Crystal), another victim of Blue Sunshine, he sets out to clear his name and discover the secret behind the mysterious substance. With the cops hot on his trail, Zipkin carefully elludes capture, while he unravels the mystery, leading him into the secret world of political coverups and deadly scientific studies, where death and mayhem lurk around every corner.
FilmCentrix and legendary director, Jeff Lieberman (Squirm, Just Before Dawn), proudly present this 1977 horror classic in a brand new, director approved 4K restoration, made from the original 35mm camera negative. The ultimate trip!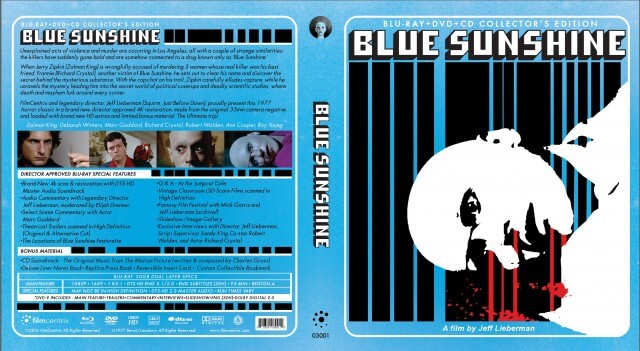 Starring: Zalman King, Deborah Winters, Marc Goddard, Richard Crystal, Robert Walden, Ann Cooper, Ray Young, Alice Ghostly
Blu Ray Special Features: Brand New 4k scan & restoration, with DTS-HD Master Audio Soundtrack /Audio Commentary with Legendary Director Jeff Lieberman, moderated by Elijah Drenner / Select Scene Commentary with Actor Marc Goddard / Theatrical Trailers scanned in High Definition (Original & Alternative Cut) / The Locations of Blue Sunshine Featurette – with director Jeff Leiberman / Q & A – At the Jumpcut Cafe, from Los Angeles / Vintage Classroom LSD Scare Films scanned in High Definition / Fantasy Film Festival with Mick Garris and Jeff Lieberman (archival) / Slideshow/Image Gallery / Exclusive Interviews with Director Jeff Lieberman – 'Tuning In On Tuning Out' / Exclusive Interview with Script Supervisor Sandy King – 'Supervising Sunshine' / Exclusive Interview with co-star Robert Walden – 'Paging Dr. Blume' / Exclusive Interview with actor Richard Crystal – 'The Lunar Crooner' / English Subtitles for Main Feature and Director Commentary / Gorgeous and professional 28 Page liner notes booklet, fully illustrated with essays by FilmCentrix producer Steven Morowitz, director Nicholas McCarthy and exploitation hound Mark Banville /4 page replica of the original Cinema Shares International press book for Blue Sunshine / Double Sided Insert Card (Stanford Diploma/Original Trailer Time Card) / Double Sided Custom Bookmark (Reversible) / Double Sided Blu Ray Cover Art (Reversible) / Blue Sunshine Custom Blotter Art / Stunning embossed outer slipcase.
DISC 2 • DVD-9 Dual Layer Includes: Main Feature, Trailers, Audio Commentary, Interviews, Slideshow, English Subtitles Blu Ray Technical Specifications:Special Features: may not be in high definition • DTS-HD 2.0 Master Audio • run times varyWidescreen 1.85:1 • Dolby 2.0 Audio • English Subtitles • 95 min
DVD Technical Specifications:
Main Feature: 1080p • 16×9 • 1.85:1 • DTS-HD Master Audio English 5.1/2.0 • English Subtitles • 95 min • Region Code A
DISC 3 • CD Soundtrack with Music From the Motion Picture, written and composed by Charles Gross
DISC1 •  Blu Ray 50 GB Dual Layer