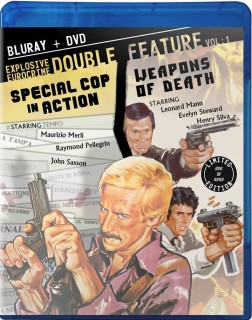 Mastered in 4k, see both Special Cop in Action (1976) and Weapons of Death (1977) in glorious full HD. This Numbered Limited combo pack also includes the DVD (NTSC, all regions) of Special Cop in Action (1976).
SPECIAL COP IN ACTION (1976)
Director: Marino Girolami
Actors: Maurizio Merli, Raymond Pellegrin, John Saxon, Mirella D'Angelo, Toni Ucci, Daniele Dubino, Sergio Florentini, Franco Borelli.
This is the third, and final installment, in the story of Commisario Betti [Maurizio Merli]. As he tries to get the best of the crime lord Albertelli [John Saxon], he puts his life and health at stake. He has to solve a series of bank robberies and the kidnapping of several school children.
WEAPONS OF DEATH (1977)
Director: Mario Calano
Actors: Leonard Mann, Evelyn Stewart, Henry Silva, Jeff Blynn, Massimo Deda, Adolfo Lastretti.
In Naples, Italy the diliggent inspector Belli faces off against the mafia boss Santoro. Robberies, a train plundered, banks and offices assulted, and innocent people killed… inspector Belli has his work cut out for him. Can he collect proof that Santoro is responsible?