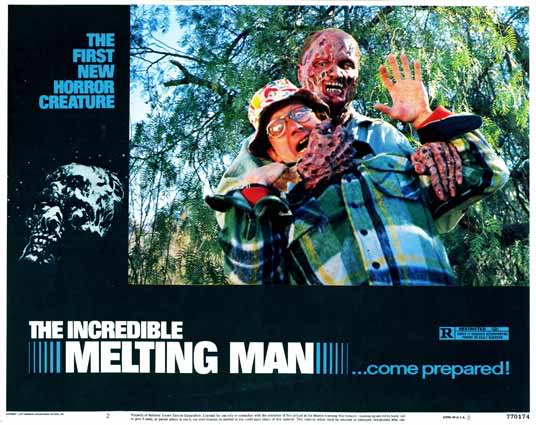 Director: William Sachs / Starring: Alex Rebar, Burr DeBenning, Myron Healey, Michael Aldredge, Ann Sweeney and Cheryl 'Rainbeaux' Smith.
When spacecraft Scorpio V returns to Earth following a mission to Saturn, two of the crew are dead and the third, astronaut Steve West, is in a critical condition. Critical, that is, until he rises from his hospital bed to bite chunks out of a nurse before escaping into the surrounding countryside. The authorities set about trying to track Steve down before he claims any other victims, but they don't know the really bad news yet – Steve is also highly radioactive! The Incredible Melting Man offers up a wealth of show-stopping B-movie moments in its relatively modest running time – chief among them, the scene in which a disembodied head floats down a river only to smash messily on the rocks further downstream – but the real star of the show here is Baker's ultra-icky special effects work which let you see the Melting Man's transition in all its gooey, glistening glory.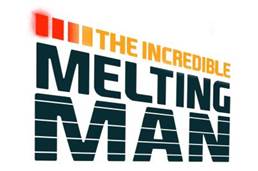 Special Features : High Definition Blu-ray (1080p) and Standard Definition DVD presentation of the feature, transferred from original film elements / Original Mono audio (uncompressed PCM on the Blu-ray) / Optional English subtitles for the deaf and hard of hearing / Audio Commentary with William Sachs / Super 8 digest version of the film / Interview with Writer/Director William Sachs and Make-up Effects Artist Rick Baker / Interview with Make-up Effects Artist Greg Cannom / Reversible sleeve featuring original and newly commissioned artwork by Gary Pullin / Collector's booklet featuring new writing on the film.
Originally starting life as a comedy under the title The Ghoul from Outer Space, writer-director William Sachs clashed with the film's producers over the tone of the film believing that the studio thought he was making a serious film when he was in actual fact making a parody of the horror genre. However, despite the clash and the mix of genres, The Incredible Melting Man has had remarkable staying power due to the credible comedic performances given by nearly everyone in the cast, even a group of kids who run into Steve during an ill-fated game of hide-and-seek. Of course, the effects from Rick Baker (An American Werewolf In London) still manage to turn one's stomach decades after they were put on film. Additionally, the score by Arlon Ober (and the Cosmic Consort Orchestra) provides a pitch-perfect accompaniment to the on-screen action.