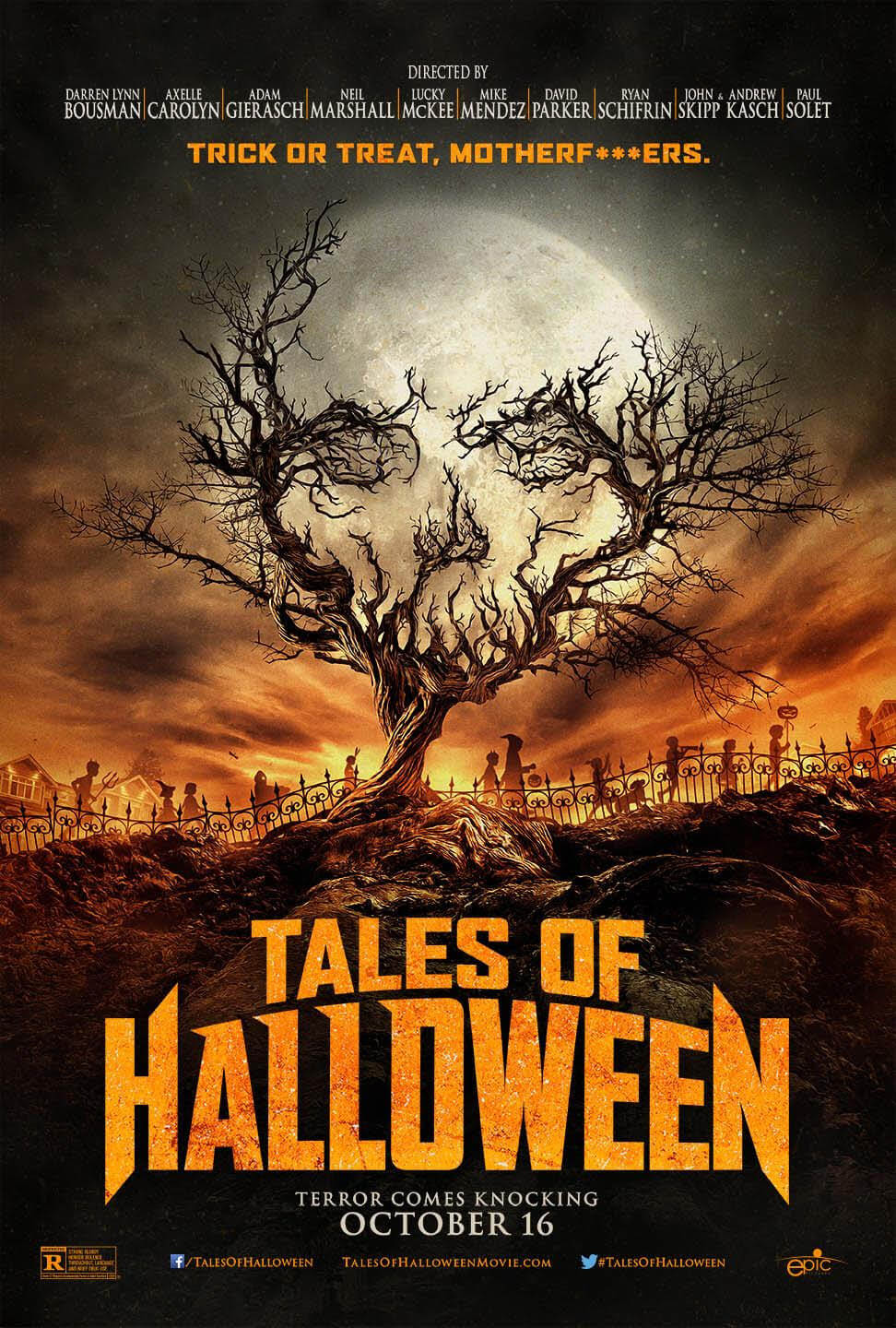 "How do you put an APB on a Pumpkin?" Cave Of Cult was thrilled to chat to Neil Marshall, director of DOG SOLDIERS, THE DESCENT, CENTURION and DOOMSDAY on his segment 'Bad Seed' of the highly anticipated and long awaited release of horror anthology TALES OF HALLOWEEN.
CofC: Congratulations on the upcoming release of Tales Of Halloween.The project was created by your wife Axelle Carolyn.How did the idea come to fruition? Had you met any of the other directors before?
Neil:I have known all the directors for about eight years now and a couple were friends with Axelle before that.We moved to Los Angeles a couple of years ago and the project grew from there.There is a big horror community in Los Angeles which we became part of.It was pretty much a case of Axelle getting all the directors together  to see how we could all work on the same project together.We decided it would need to be an anthology movie as there were so many of us and we all share a love of Halloween.There are not that many Halloween anthology movies out there so it all fell together quite naturally.
CofC: The obvious comparison will be to 'Trick 'r Treat'.Horror fans have been waiting years for 'Trick 'r Treat 2' which has not yet been made.TOH has ten segments which is the most ever squeezed into one movie.It ties in also with the style of V/H/S, V/H/S/2 ,The ABC's of Death but also The Purge as all the activity happens on one night.Were all of these aspects intentional to tie-in?
Neil: Absolutely.In terms of the format we were trying to find the right format and segment length.ABC's of Death has much shorter segments and other films like V/H/S has fewer but longer segments so we fell right in between both by having 10 segments but wanted to keep them 8 – 10 minutes long.We wanted to have a film which ran about 100 mins that wouldn't outstay its welcome incorporating stories which were long enough for audiences to get into and be absorbed by and 10 x 10 minutes just seemed like the perfect format.It was always the intention to have a linking thread throughout all ten segments because it does take place in one town on one night.We didn't want to use the traditional anthology wraparound story because I often feel when watching anthology movies that when it comes back to the wraparound story we lose interest.We decided to ditch that idea and weld the stories together via subsidiary characters like trick or treater's that appear throughout the whole movie.The linking characters are fun to spot too.
CofC: Your segment 'Bad Seed' was the cherry on the Halloween cake for me, not just because it was the last segment but it came across as a love letter to John Carpenter.You were riffing on Halloween III and The Thing. Bad Seed features some great cameos from John Savage, Pat Healy, Adam Green and the mighty Joe Dante.You must have had a great time making it?
Neil: So much of what I do usually is a love letter to John Carpenter! Obviously I am a massive John Carpenter fan and he has heavily inspired me in my career.It was immense fun getting to work with that cast and getting to put some fun cameos in it.There's definitely a hint of Gremlins in there too which seemed appropriate getting Joe Dante to play the mad scientist.Wolf Creek director Greg Maclean also cameos as the guy who carves the pumpkin in the first place. I guess for me the main cameo in there is getting poster artist Drew Struzan as the police sketch artist.
CofC:How did Axelle decide on the running order of the segments and was there any infighting?
Neil: When I came up with my script it was pretty much decided that it would be the last one because it ties a lot of the segments together and it has a bigger ending.All segments before Bad Seed were shifting around a lot before the final running order.Once we had decided that Dave Parker's segment Sweet Tooth would be the opening segment then slowly but surely the rest seemed to fit into place.It changed from the initial script as they were in a very different order and through the editing process we shifted them around as to which worked best in terms of tone,comedy and horror.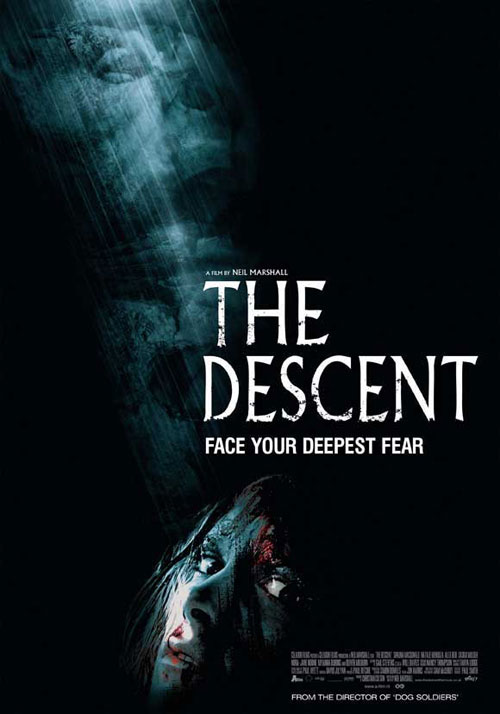 CofC: You have had a great career in horror films. The Descent is still in the top 5 best horror films of the last decade in my opinion and its quite hard to beat. You have been working in US television recently directing genre series such as Hannibal, Black Sails, Game Of Thrones and Constantine. Do you prefer to direct from your own scripts?
Neil: Thank you.Television is a completely different thing and its as close as I would imagine working for a big studio would be.You have to park your ego and do your job whereas directing your own stuff is ideal because no one knows your script better than you do. Working in television is a very different way of working and I miss directing horror features and it is something I am keen to get back to and have not given up on.I'm still writing and planning my own projects.
CofC: How important is the horror fans approval and reception of your projects at Frightfest among others?
Neil: I actually miss that world as I haven't been in the horror film festival circuit for quite a while now and I forgot how much I miss it. It's been a real joy going around these festivals with Tales Of Halloween.I'm only one of ten directors but getting back into the fold has been fantastic and the films reception has been fantastic as well .The horror fans out there are so passionate. They are very discerning, they love this stuff and they love you for making it so its a pleasure to do that again.I cant wait to get back out there with something new.
CofC:What genre films have impressed you recently? Did you manage to catch any at FrightFest?
Neil: I didn't manage to catch much at FrightFest.I saw a crazy New Zealand thing called Death Camp which was highly entertaining and a great French thriller called Rabid Dogs which I really liked.
CofC: What's next for you.What's the latest on Skull Island?
Neil: I'm in Toronto at the moment directing a TV pilot and I am hoping to direct a feature I have written early next year.Absolutely nothing is happening with my version of Skull Island.The other version seems to be going ahead as planned.My version of Skull Island has crashed on the rocks and been eaten by a dinosaur!
CofC: Will your next project be a horror film?
Neil: Fingers crossed yes. It's that constant battle of trying to come up with something fresh and new. The Descent,even though it was released a decade ago, is still a tough act to follow.Trying to come up with an idea that has that kind of impact is tricky,very tricky.I screened The Descent at a film festival in Denver earlier this month for its tenth anniversary.Half the audience had seen it and half had not.The ones who hadn't seen it were totally blown away so there's a new lot of fans.It's not a film that dates and it still has the same power now as it did then which still feels fresh to me.
Tales of Halloween is available on Digital HD from 16th October.