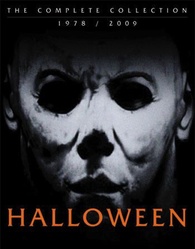 Anchor Bay Entertainment and Scream Factory! have forged a partnership and announced two different releases of the long-awaited Halloween: The Complete Collection a 10-disc standard edition set and a 15-disc Limited Edition deluxe box set that includes all-new bonus features, collectible packaging and a 40-page book. Halloween: The Complete Collection sets arrive on Blu-ray on September 23rd.
Before Jason, before Freddy, before Jigsaw, there was Michael Myers. What producers Moustapha Akkad, Debra Hill and Irwin Yablans, writer/director John Carpenter and stars Jamie Lee Curtis & Donald Pleasence started in 1978 has transformed into one of the most durable, iconic and studied horror film franchises ever created. Over the years, audiences have lived and relived the terrors of Michael Myers through ten feature films, as well as various re-edits and alternate versions. Yet to date, the complete saga of Michael Myers could only be told in pieces, in individual Blu-ray and DVD, with the rights spread across multiple home entertainment studios.
The 15-disc Limited Edition deluxe set is spread across 15 discs and includes every Halloween feature film:
Halloween (Original & 35th Anniversary)
Halloween II
Halloween III: Season of the Witch
Halloween 4: The Return of Michael Myers
Halloween 5: The Revenge of Michael Myers
Halloween: The Curse of Michael Myers
Halloween H20
Halloween: Resurrection
Rob Zombie's Halloween
Rob Zombie's Halloween II
The set also offers:
Never-before-released producer's cut of Halloween: The Curse of Michael Myers
Ultra-rare network TV version of the original Halloween
Network TV version of Halloween II
Unrated version of Rob Zombie's Halloween
Unrated version of Rob Zombie's Halloween II
The set is packed with hours of brand new bonus features as well, including new interviews with cast and crew from the entire franchise. In response to years of fan feedback, the first Halloween will now also include the original mono audio track and the set will include both versions of the original Halloween: the original Blu-ray release and the recently remastered 35th Anniversary version with the mono track added back in.
It also comes with a limited edition 40-page book written by Michael Gingold of Fangoria Magazine. The collectible packaging will include a newly commissioned illustration on the outer case and each film will be in its own black Blu-ray case with the original theatrical one sheet as the key art. The 10-disc Edition includes the original theatrical versions of the Halloween films, as well as select bonus features.